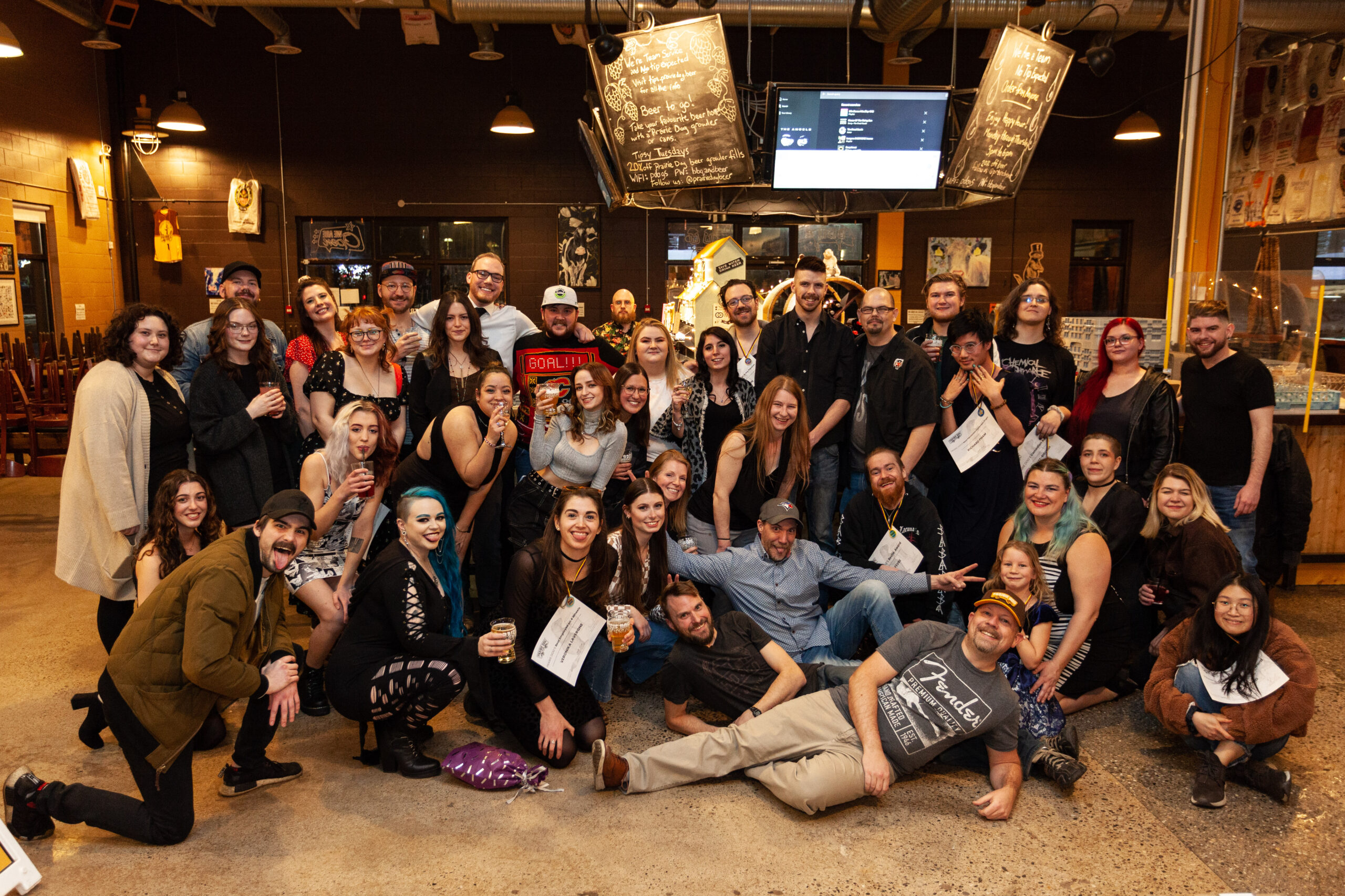 Our Vision
We are a family-owned craft microbrewery and 200-seat family-friendly barbecue restaurant (brewpub) based solely in Calgary, Alberta, Canada. Ever since our founding in early 2016, we aimed to become a renowned destination that would be known as an integral part of our community, and which people would aspire to be a part of, whether as patrons, staff, entertainers, artists, partners, suppliers or service providers. We opened our doors to the public in June of 2018, and have experienced tremendous success and support from Calgarians, as well as the Alberta community as a whole.
Our tag line is "Beer, Barbecue, Friends", because we want to bring people together in our conversation-friendly, family-friendly, easy-going setting to connect over beer and barbecue. COVID-19 really threw a wrench in our plan, but that didn't stop us from providing world-class barbecue and craft beer to Calgarians through takeout and delivery, and finally reopening for Dine-In on August 24, 2020.
OUR MISSION
Our mission statement reads as follows:
With quality at its centre, Prairie Dog will strengthen the social and economic fabric of our community through disruptive, ethical and sustainable business practices that provide a proven model for other businesses to follow, leading to a legacy of change within our community greater than a single company could achieve on its own.
This may sound like a lofty goal, but the sad truth is that the restaurant industry is full of discrimination, deceptive tactics and abusive, unethical labour practices, so there are dozens of ways that we differentiate ourselves from the rest of the industry, like by providing fair wages and making no expectation of tips from our customers. This makes it harder on us financially, sure, but we believe it's the right thing to do in order to succeed at our vision.
On the positive side, Alberta is chock-full of innovative small businesses that provide excellent products and services that we can use in our food, beer, and general operations, which makes it easy for us to support and strengthen our community and the Alberta economy.
Our Customer Experience
Prairie Dog Brewing caters to a diverse set of folks, all with unique and differing personal perspectives and expectations. No matter what, we aim to understand our customers and give them a sense of safety and belonging. Our care free, feel good pub atmosphere gives people a place to relax and reenergize, and to look back upon with longing and nostalgia after every experience. We aim to awe and impress, both with our attention to detail and with our breadth of knowledge and hyper-transparent operations, and we hope that our customers feel like they get a good value for their dollar, and that they are proud to tell their friends and family that they drink Prairie Dog craft beer or eat our delicious southern-style barbecue and other comfort foods.
Let Us Know How We Are Doing
If ever you feel like we are failing in our mission, we encourage you to provide us with direct feedback by email or word of mouth with a supervisor or owner, so we can ask clarifying questions that help us improve. You are also always welcome to leave a digital review on Google or Facebook, or our new reservation system (for dine-in customers). The third-party delivery services we work with also provide the ability to leave reviews. No matter where you review us, please let us know both how we can improve, and what we need to keep doing well!
Tips for Great Reviews
For a review to be useful, it needs to be actionable, which means we need to have details, like:
When (date and time) you interacted with us
How you interacted with us (dine-in, takeout by phone/website, delivery, festival booth, tasting session, brewmaster dinner, holiday party, etc)
Who it was you interacted with (names, descriptions)
What specific products or aspects of service you would like to call out
Why you think we did or did not do well
If you spoke with a staff member about an issue, and were not happy with how they resolved it, what were you expecting that would have made things right?
| Unhelpful Review | Helpful/Actionable Review | Why |
| --- | --- | --- |
| "food was garbage" | We called for takeout last Sunday around 10pm. The woman (didn't catch a name) that cashed us out was friendly and efficient, and even grabbed us some extra bbq sauces after we paid because we forgot to order them on the phone, but when we got home and opened up our food, we found it to be way less than we expected. We ordered a personal taster platter to share, and there was only one slice of brisket and less pulled pork than in the photos. I found the chicken to be too salty to eat, so I had to throw it away. My wife's fries were cold and seemed stale/old. I attached a picture. | This review tells us that the service staff who were taking orders were doing a good job, but that our product photos may be misleading, or more likely, that the staff assembling the order may have been portioning incorrectly. We also learn that we may have to recommend people purchase sauces when they order for takeout. The review also indicates that the kitchen staff working that night may not have been following our quality standards w/respect to fries. If we received other reviews about salt for the same day/night, we may assume that our prep cooks may have over-salted our chicken brine, or that we need to revisit recent recipe changes. We have sufficient information to follow up with the staff involved for every concern mentioned in the review. |
| "the food was good, but service needs improvement" | We came in for dine-in tonight (Friday) around 6:30pm. This was our first time, and the place seemed pretty full. After we sat down, it took probably 15 minutes for a server to arrive at our table, I think her name was Jessica? She took our drink order and said she'd give us time to order food, but then she disappeared and some other person came by the table to order food (a tall guy with brown hair and glasses). We didn't want to order with a new server so we told him we'd wait. Finally, after a half hour Jessica was back and took our food order. The food came out pretty quickly and was really tasty, but it just seemed like we were always having to flag our server down for drinks, cutlery or our bill. | This review makes it clear that the guest was not informed about our team service model, likely a failure of the staff member who first seated the table, who should have asked the guests if it was their first time and explained our model adequately. We could also consider improving our online menu and business listings to better inform our customers about our model. Had the customer understood our model, they could have put in orders with the other wait staff that visited their table, and had a better experience. Beyond that, this review shows us that our staffing level was either too light or staff were uncommunicative with guests about breaks or having to deal with cashing out a large party. We would follow up with staff (re)training and scheduling changes to improve for the future. |
| "I've had better" | I love craft beer and have visited most of the microbreweries in Alberta. I also happen to love meat, so I was really excited to visit Prairie Dog. Unfortunately, I was disappointed. I tried to order the Kolsch from their menu, but was told that the beer was no longer on tap. I was really hoping to try a hazy IPA, but they had none on the menu. Finally, I tried the "Super B", which had a cool name, but was not blown away as it turned out to just be a citrusy wheat beer. My Dog burger was good but nothing special for the price. Wouldn't go back. | These are some of the most heartbreaking reviews for us, because they indicate that we are failing to understand what customers like this are looking for in our product offerings. Running out of a core beer like the Kölsch is a reality for any small brewery, but the fact that the customer tried to order it shows that we failed to adequately inform them of its lack of availability when they looked at our menus. We also learn that this type of customer really wants us to have a hazy IPA on tap. The Super B is a citrusy wheat beer, so the fact that the customer was disappointed shows that we didn't make it clear enough what the beer was. The review on the dog burger is actually not very useful — it would be even more helpful to tell us what they were expecting vs what they got. |
Examples of typical negative reviews that are not helpful because they contain nothing actionable, vs reviews that allow us to take steps to improve.
Similar to the negative reviews above, positive reviews with details are way more useful to us. We use positive reviews to reward our staff performance, to tell us which players on our team we should be talking with about training other team members, and to inform ourselves about the successes or failures of changes to products and services that resulted from earlier feedback.