We have a full-service, 150-seat brewpub located at 105D 58 Avenue SE, directly on the corner of Centre Street at 58th Avenue, in South Calgary. We are an easy walk from the Chinook LRT Station and Chinook Centre Mall, and easy to access from Deerfoot Trail, Glenmore Trail, Macleod Trail, and Blackfoot Trail. This is where you want to come for in-house dining or takeout orders.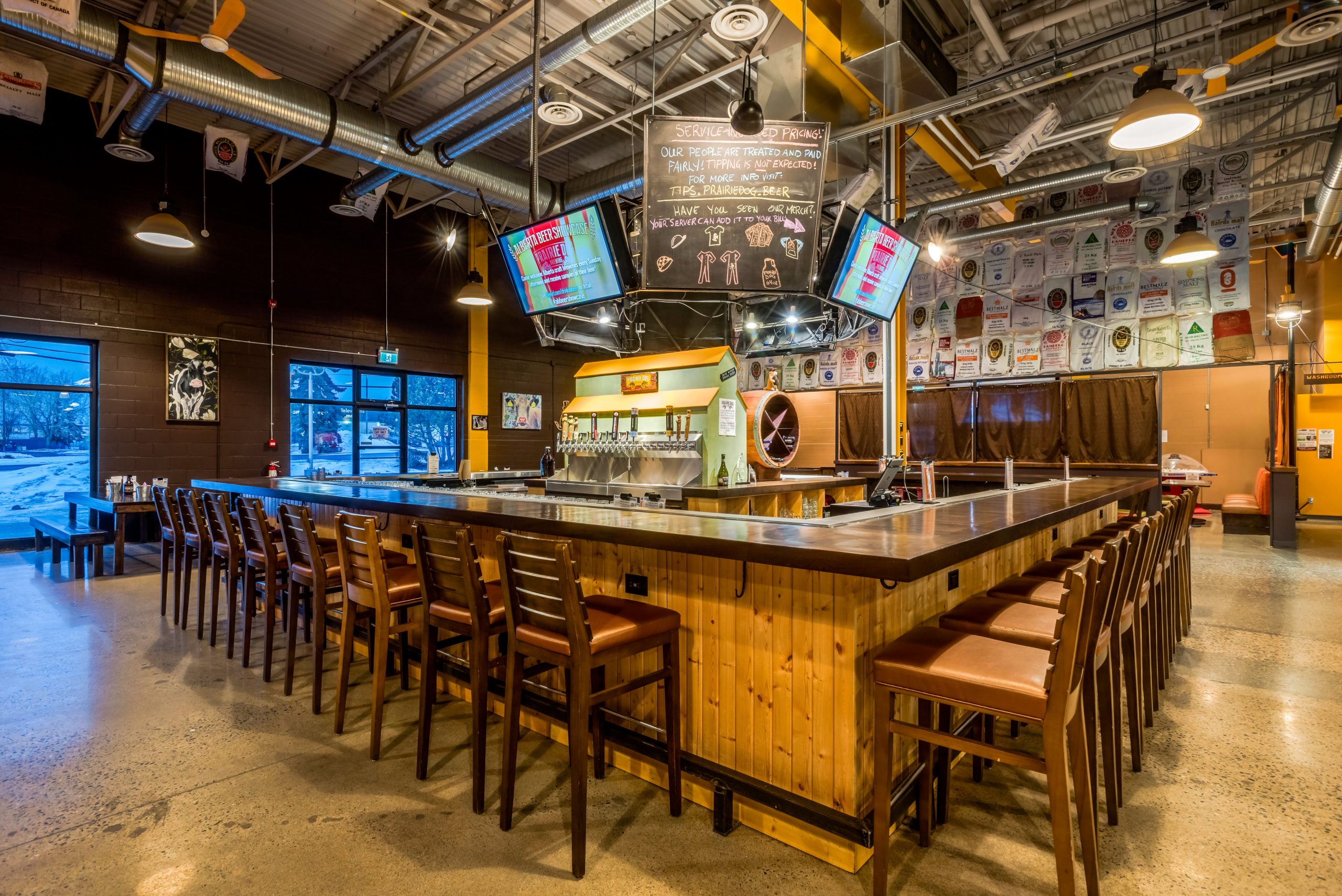 The hours below reflect all times of day that guests can visit our establishment to dine in, order BBQ and beer for pickup, or order online. For details about last call, visit our Dine In page.
Sunday: 11a-10:30p
Monday: 11a-10:30p
Tuesday: 11a-10:30p
Wednesday: 11a-10:30p
Thursday: 11a-10:30p
Friday: 11a-1a
Saturday: 11a-1a
Last call 30 minutes prior to closing time. Last Updated: July 18, 2022
One of the most common questions people ask us is where can they find Prairie Dog Beer.
Prairie Dog Beer On Draft
Our 58th Avenue South Calgary brewpub is currently open for dine-in, takeout and delivery, and is always the best place to find the widest variety of fresh, house-made Prairie Dog Brewing beer on draft as well as local guest beer, cider, and mead.
Packaged Prairie Dog Beer
Prairie Dog Brewing proudly carries the widest variety of our own packaged beer products on site at our 58th Avenue South Calgary brewpub, but we also distribute our beer to a select group of high-quality Alberta liquor stores, event venues, bars and restaurants, who either sell our beer in package to take home, or for on-site consumption at their venues. See the map at right for our latest list of locations where you can find Prairie Dog Brewing beer today. Sorry, we can't guarantee availability — call the establishment to be certain!
Can't find us in your favourite store? Ask your store to contact sales@bbq.beer or ask for Prairie Dog Beer by name!
Try Prairie Dog Beer Today!