See below to check out all of our available retail offerings! If you are looking for the beers currently available in our Brewpub, please click the button to the right.
 Our Regular Beers represent the majority of our volume sales. These beers are available year-round and are always fresh, unfiltered, unpasteurized, and truly local. 20L, 30L and 50L kegs also available through direct distribution, contact sales@bbq.beer for more information.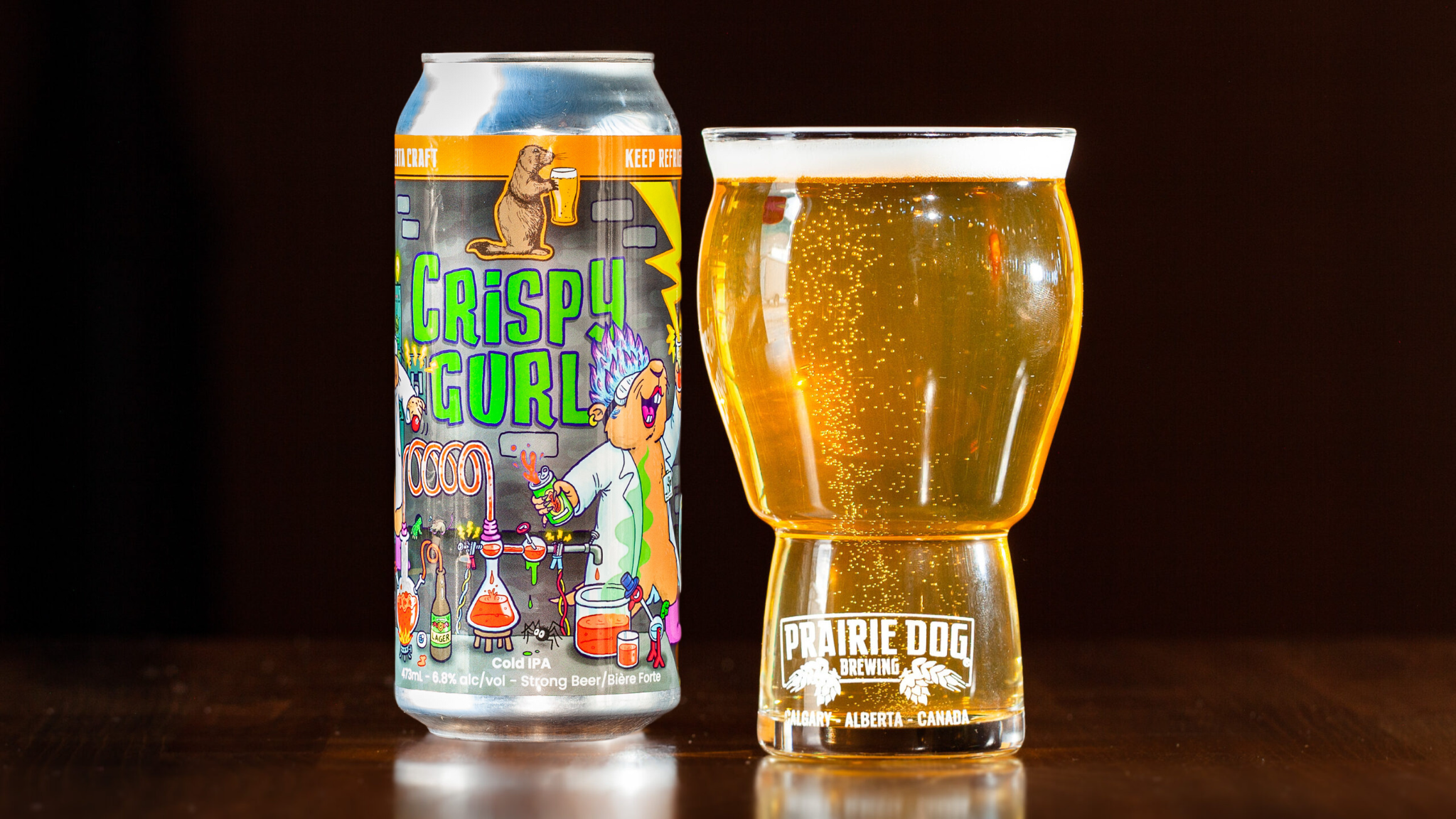 "Best cold IPA I've had in a while"
Cold IPA – 6.8% ABV 50 IBU
Calgary's first Cold IPA, Crispy Gurl was originally brewed as a collaboration with XHale Brewing Co for International Women's Day. Hence the name Crispy Gurl.

What's a Cold IPA? It's a new style of beer that is crisp and refreshing like a pale lager, but flavourful and juicy like an IPA. Plus, it tastes cold!

If you don't like IPAs for the bitterness, try a Cold IPA! You get ALL the hop aroma and flavour without that bitter punch to the teeth so common in big IPAs.

Easy to drink and not too heavy makes it a great choice for sipping while watching the game, gathering with friends, or unwinding after a long day. Careful though, at 6.8% the drinkability of this beer is deceiving.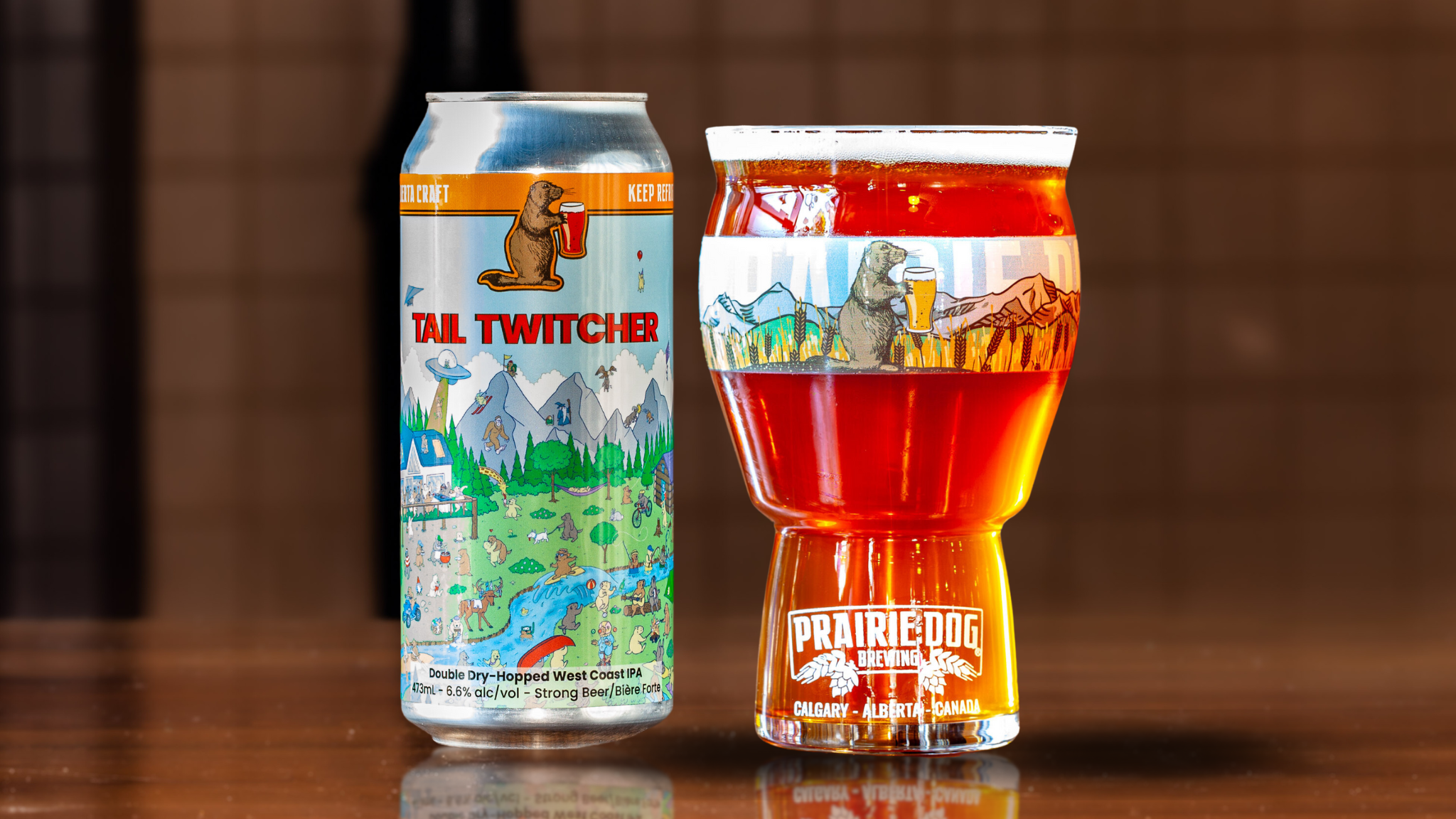 "Malty backbone balanced by traditional citrus and pine. Some subtle mango and pineapple in there as well"
DDH IPA – 6.6% ABV 74 IBU
The name Tail Twitcher references a body language movement prairie dogs do to show excitement or engagement.

Double dry-hopped, it is a rare example of a west-coast style IPA in Alberta (aka not hazy). Darker in colour than a lot of other IPAs, for increased depth of flavour.

It's a super flavourful beer with loads of citrus and tropical fruit, pine, and toast characters, a malty backbone takes the bitter edge off.

The label is packed full of exciting activities and Easter eggs! Which one is your favourite?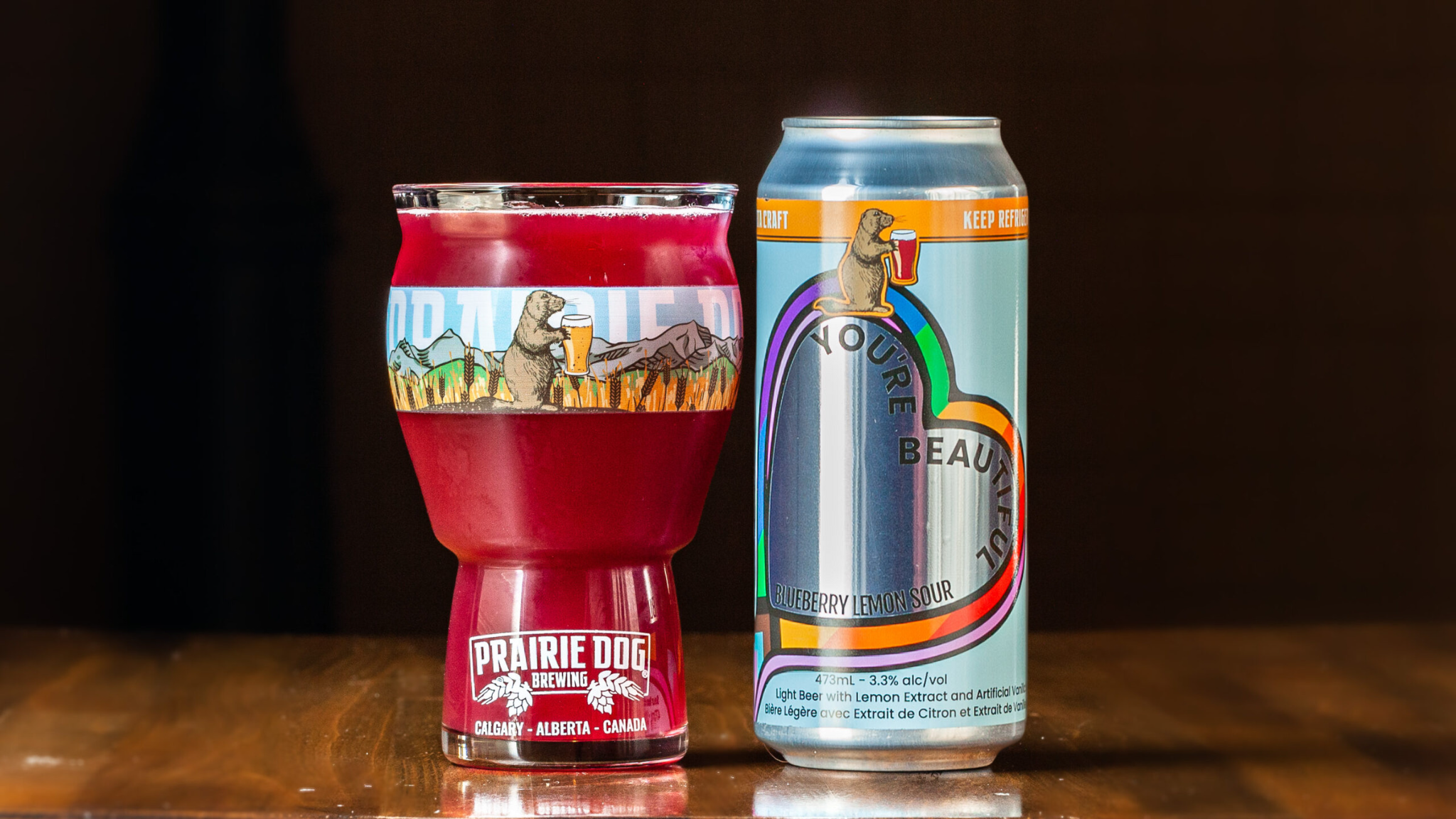 "Pucker up, it's a sour. Fruity and light, nice"
Fruited Sour – 3.3% ABV 7 IBU
Originally brewed as a Pride beer, now a year-round charitable initiative in support of Outlink Calgary, a not-for-profit charity dedicated to providing support, education, outreach, and referrals for the 2SLGBTQIA+ and allied communities in Calgary, Alberta.

This beer is low in alcohol but huge in flavour – the first sip will make you go "oh!".

80kg of blueberry puree goes into every batch, alongside flavours of lemon and vanilla to make it a well rounded drinking experience.

A great option for those that don't like "traditional" beer flavours. If you've never had a sour beer, try it! You just might like it!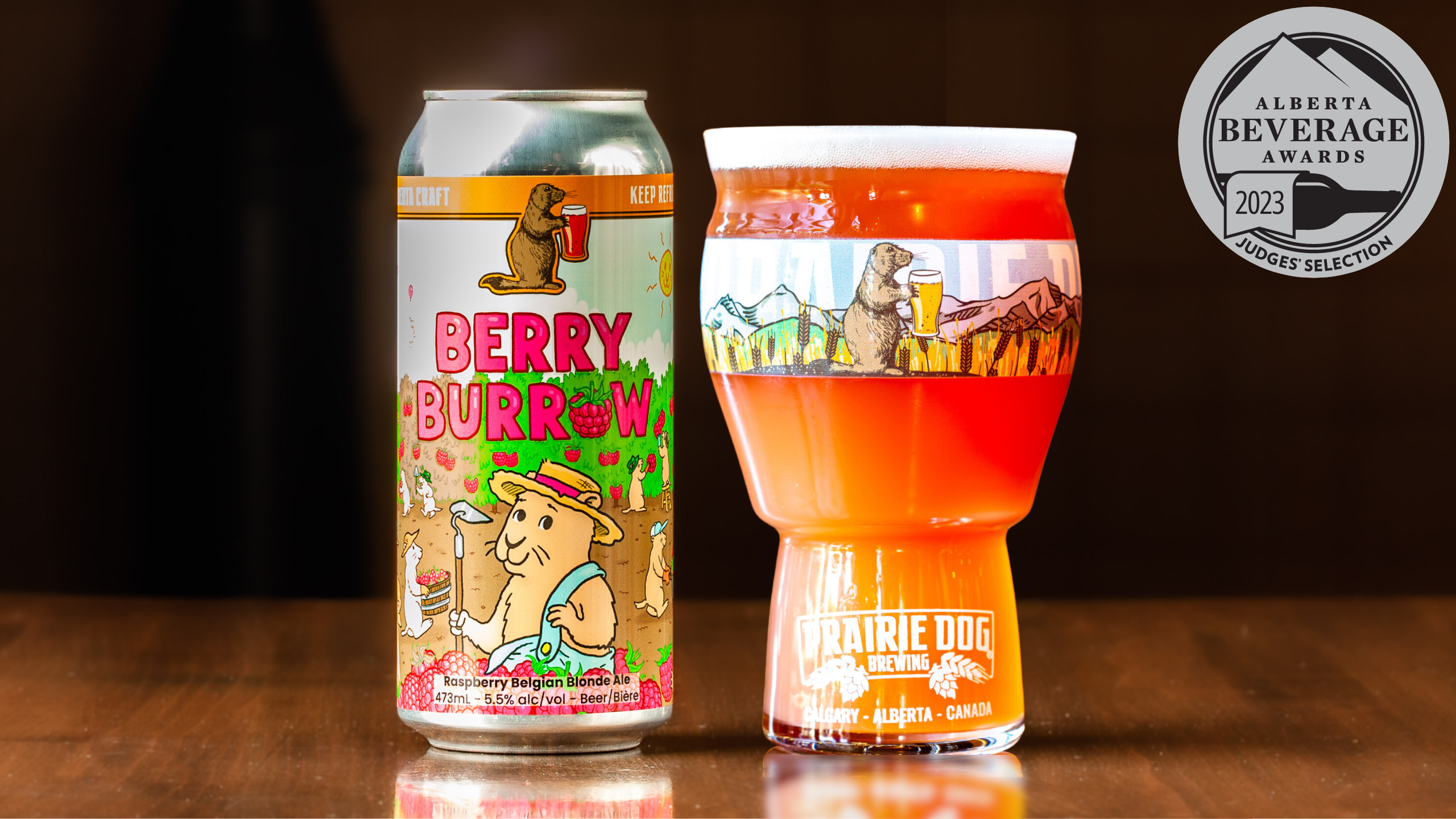 "Fruity, well-balanced and refreshing"
Belgian Blonde Ale with Raspberry – 5.5% ABV 19 IBU
We've followed an Alberta tradition of creating refreshing beer with huge doses of raspberry!

A refreshing Belgian-style blond ale using a custom blend of American hops, refermented over raspberry puree.

Bready malt flavours, spicy Belgian yeast character and moderate hop bitterness balance the berry sweetness to create a year-round drinker!

Named for the prairie dog burrows, which are the pillars of their ecosystems yet rely on community for survival. Craft beer similarly relies on community while supporting an ecosystem of producers.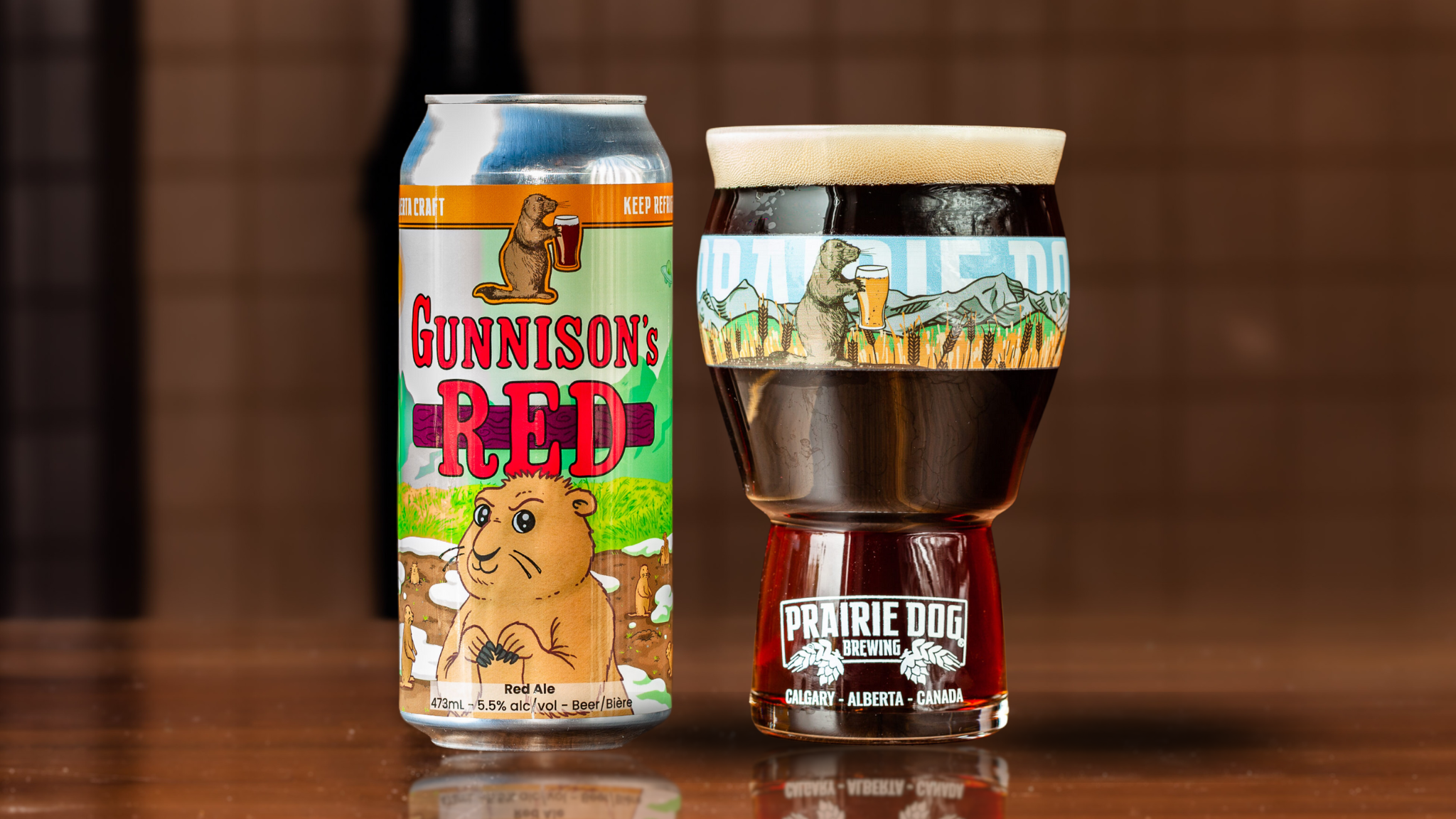 "Solid red, slight hint of bitterness but somewhat light and very refreshing."
Red Ale – 5.5% ABV 24 IBU
Everything you love about dark beers, and nothing you don't. Rich and full bodied, caramelly and sweet with enough bitterness to balance without heavily roasted or burnt flavours.

Our house yeast keeps the beer fairly dry with a malty backbone, making it easy to have another.

Named after the small but boisterous Gunnison's Prairie Dog, this beer may seem plain but is not to be underestimated!

An extremely popular, crowd-pleasing malt forward beer that goes down smooth with a variety of cuisines.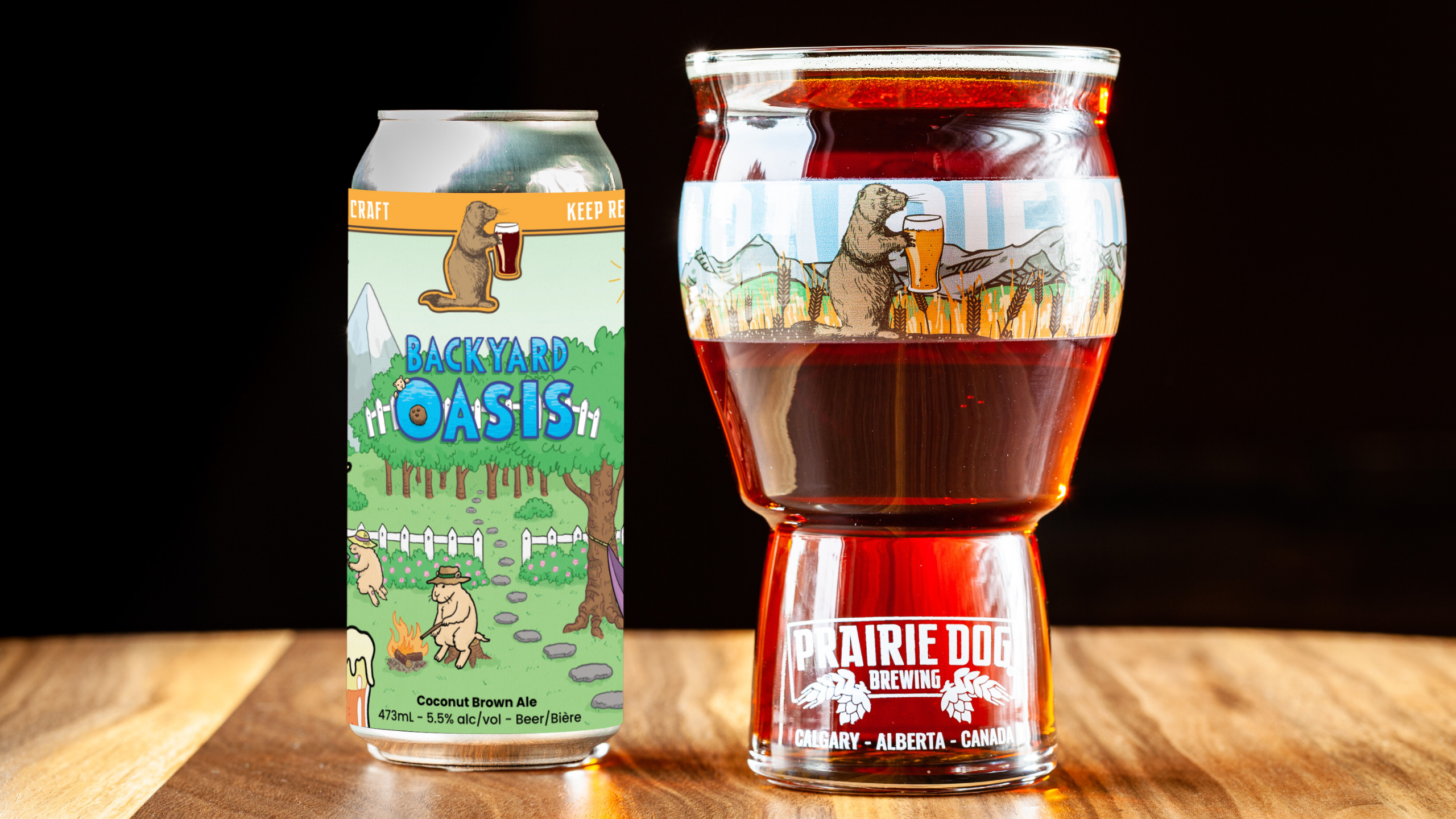 "Best brown ale I've ever had."
Coconut Brown Ale – 5.5% ABV 32 IBU
2019 Canadian International Brewing Awards Gold Medalist!

An English Brown Ale that has 30kg of house-toasted coconut added in every batch (2.5kg/100L).

It features several specialty malts grown right here in Alberta that are well balanced with the sweetness of the coconut, providing flavours of milk chocolate, caramel and toast on a mildly bitter backbone with a dry finish.

The name Backyard Oasis is about celebrating the natural Alberta landscape around us and all of the activity that can be done in our own backyard, while still giving a feeling of a tropical vacation.

A great pick for someone who loves coconut and chocolate, or just looking for a darker beer that won't weigh them down.
Our Special Release Bottles are small batch, timed releases with a mixture of yearly vintages and one-time experimental beers. Here you'll find the products from our extensive barrel program as well as wild yeast/bacteria experiments, fruited beers and bottle-conditioned products. Beers from this series are intended to drink now, but are capable of cellaring and will most definitely evolve in the bottle over time.
Barrel-Aged Belgian Dark Strong Ale – 27 IBU
Our annually released Midnight Combine is a strong, Belgian-style dark ale aged in American oak barrels for at least 3 months and allowed to undergo a secondary ferment through an inoculation with Brettanomyces yeast. The result is a blend of chocolate and subtle burned sugar paired with a mild wine-like acidity and complex blend of spicy phenols. Wood aging adds another dimension to this beer, making it bear some resemblance to a big, dark wine. This beer has been conditioned in the bottle and will continue to evolve as the beer ages, and is suitable for cellaring for years to come.
500mL Bottle

MSRP: $18.95/Bottle
750mL Bottle

MSRP: $18.95/Bottle
750mL Bottle

MSRP: $16.95/Bottle
750mL Bottle

MSRP: $16.95/Bottle
Barrel-Aged Baltic Porters – 10.3% ABV 36 IBU
Born from our 100th batch Baltic Porter, a deeply indulgent yet light finishing experience of dark chocolate and malty richness. Both of these beers got a unique 5-month single barrel treatment: Firebrand was aged in a Tennessee Whiskey barrel, and Zinful was aged in a California Zinfandel barrel. The result is two different yet delicious slow-drinking beers, with assertive barrel and spirit character.
Firebrand
MSRP: $14.95/650mL Bottle
Zinful
MSRP: $14.95/650mL Bottle
Barrel-Aged Imperial Stout – 10.4% ABV 77 IBU
A deceptively smooth blend of 15-month bourbon barrel-aged and 3-month stainless-aged Imperial Stouts that has been further bottle conditioned for 2.5 years. This full bodied, rich and complex beer is sure to satisfy the toughest of palates, without all the added sugars and additives of other commercial examples. Bottle conditioning and natural carbonation ensure this beer is perfect for drinking now, and suitable for further aging.
S.T.E.V.E.
MSRP: $16.95/650mL Bottle
For more information about our retail packaged product, please contact our sales department.
Join our industry mailing list for news about upcoming products.