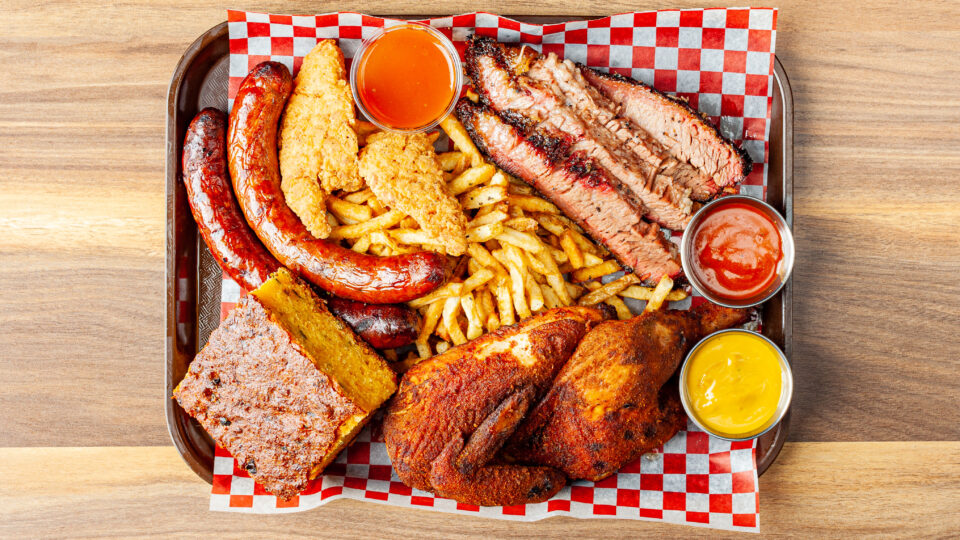 The Coterie
Signature BBQ combo platter with 1/2 chicken, 8 oz brisket, 2 sausages, chicken tenders, cornbread, fries, 2 sauces. Add 4 Pork Side Ribs - $12
Product Information
Ingredients
Brisket: Beef brisket, kosher salt, black pepper, apple cider vinegar, apple juice. Chicken: Chicken Brine: Water, kosher salt, sugar, lemon juice, thyme, parsley, garlic, peppercorn, bay leaf. Chicken Rub: Oregano, paprika, garlic powder, granulated onion, cumin. Chorizo Sausage: 75% lean ground pork, toasted rice crumbs, salt, mustard, dextrose, cumin, smoked paprika, red wine. Chicken Tenders: Chicken breast fillets, water, soy protein isolate, salt, toasted wheat crumbs, wheat flour, soya oil, canola oil, corn starch, durum flour, whey powder, spices, garlic powder, guar gum. May Contain Eggs. Jalapeno Cornbread: AP flour, cornmeal, sugar, baking powder, salt, milk, unsalted butter, smoked yellow cheddar cheese, green onion, jalapeno. Kennebec Potato Fries: potatoes fried in zero trans-fat corn and canola oil, kosher salt, black pepper. Plum Sauce: sugar (glucose, fructose, blackstrap molasses), water, pumpkin, vinegar, modified corn starch, salt, plum puree, concentrated orange juice, guar gum, sodium benzoate, spice, dehydrated lime peel.
Allergens
Wheat, Dairy, Hot Peppers, Soy, Eggs, Mustard
Trace Allergens
Wheat, Dairy, Soy, Eggs
Allergen Information
Allergens cannot be substituted out of this menu item. Trace allergens are present due to the deep fryers.