The Story of
Midnight Combine

As the culmination of the efforts of our barrel program, our annual fall release of Midnight Combine didn't come about overnight. It's a story that follows us from our roots to present day and beyond. Read on to find out more about our signature special release beer, and check out all the vintages of Midnight Combine available for purchase and local delivery now.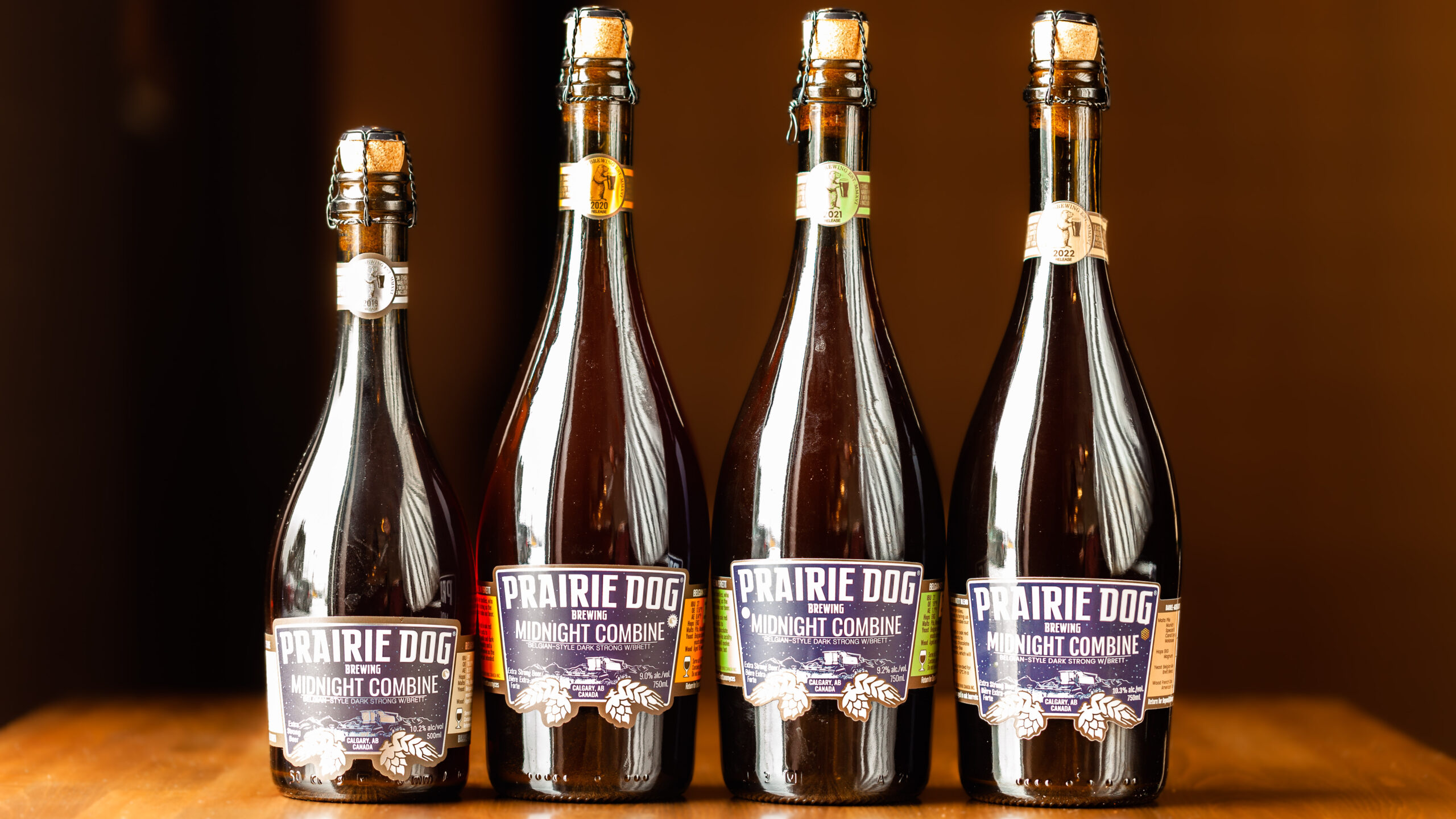 What style of beer is Midnight Combine?
Midnight Combine is a barrel-aged, mixed fermentation, Belgian-style Dark Strong Ale that releases as a yearly vintage annually since 2019. Belgian Dark Strong Ales are noteworthy for their high alcohol and sweet notes of caramelized candy sugars or molasses, along with plum or raisin aromas and malty underpinnings, and are not hop-forward. Each year, we create a unique blend from several barrels that contain a variety of conventional and wild yeasts (ie. Brett). Therefore, our annual vintages are unique due to these and other factors. Each vintage differs in alcohol content, aroma, flavour and body — much like yearly vintages of wine — and each year's blend contains a portion of the prior years' barrel-aged product, adding layers of depth and complexity that are quite rare in beer.
So what's a Midnight Combine?
"Midnight Combine" is an homage to the farming families that work late into the night during harvest time each year to bring us the grain that we use to make our delicious beer. Combine harvesters are commonly used farm machinery that gather crops, such as barley and wheat, to be sent for further processing and eventually to breweries (like Prairie Dog Brewing). We use these locally grown, locally malted grains to brew our beer and Midnight Combine is no exception. In this way, we are supporting our local farmers and the Alberta economy. No farmers, no beer.
What Barrels are used for Midnight Combine?
We use a mixture of American Oak and French Oak barrels for the fermentation and bulk aging process. These barrels were previously used to age and store red wine in the Napa area, however most of the flavour and aroma of the wine has since been washed away. After adding unfermented or partially fermented beer to the barrels, we inoculate them with either conventional, "clean" Belgian Saccharomyces (Sacch) yeast, or wild yeasts in the Brettanomyces (or Brett) family. The freshest beer used in our blends generally resides in barrels for a few months, however each year's blend contains a portion of the prior year's blend, such that even our latest releases include beer that first met oak back in 2019. For 2022 Midnight Combine, we included beer that was 100% fermented in barrels using multiple strains of Brett, which gave this year's vintage a more twang-y, farm fresh funk.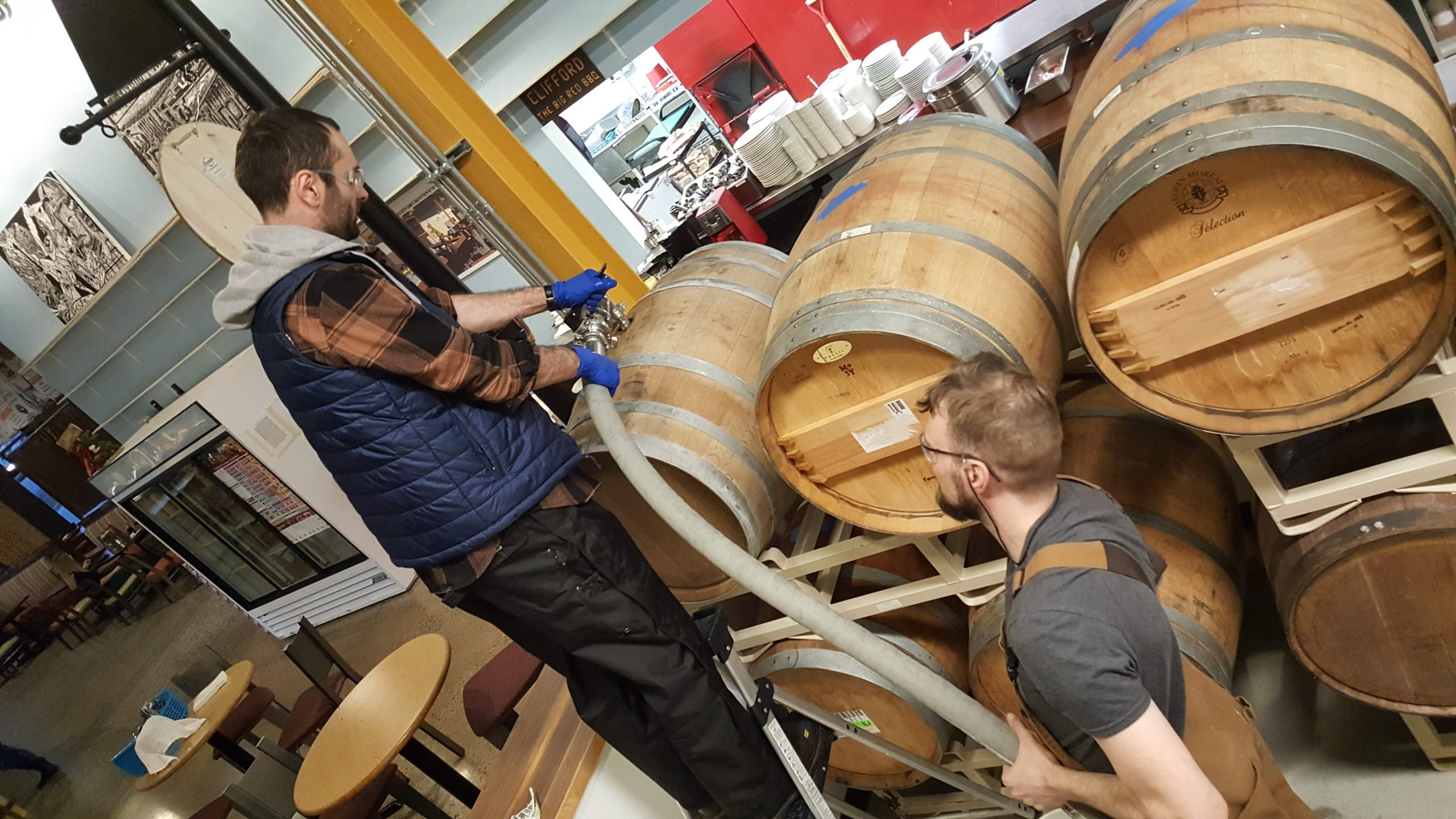 How long does it take to make Midnight Combine?
The process begins at the brewhouse, where we take large amounts of grain and end up with a wort ranging between 17 and 19 degrees Plato over the course of one very long day. Depending on the year, we use either large stainless fermentation vessels or 225L wine barrels for a "primary" fermentation with Belgian Ale Yeast, which can take up to 3 weeks and consumes about 80% of the sugars — this is where the majority of alcohol production takes place. We may then undergo a "secondary" fermentation in wood barrels, each with their own culture of micro-organisms, and sealed to age for anywhere between 3 months and 1.5 years. In recent blends, we've forgone primary fermentation with Belgian yeasts in some of the barrels, directly fermenting the entirety of the sugars using Brettanomyces (Brett) yeasts prior to blending with a portion of "clean", conventionally fermented beer. Finally, we hand bottle this liquid gold – live and unfiltered, with natural carbonation produced as the Brett yeast continues to consume a small charge of sugar.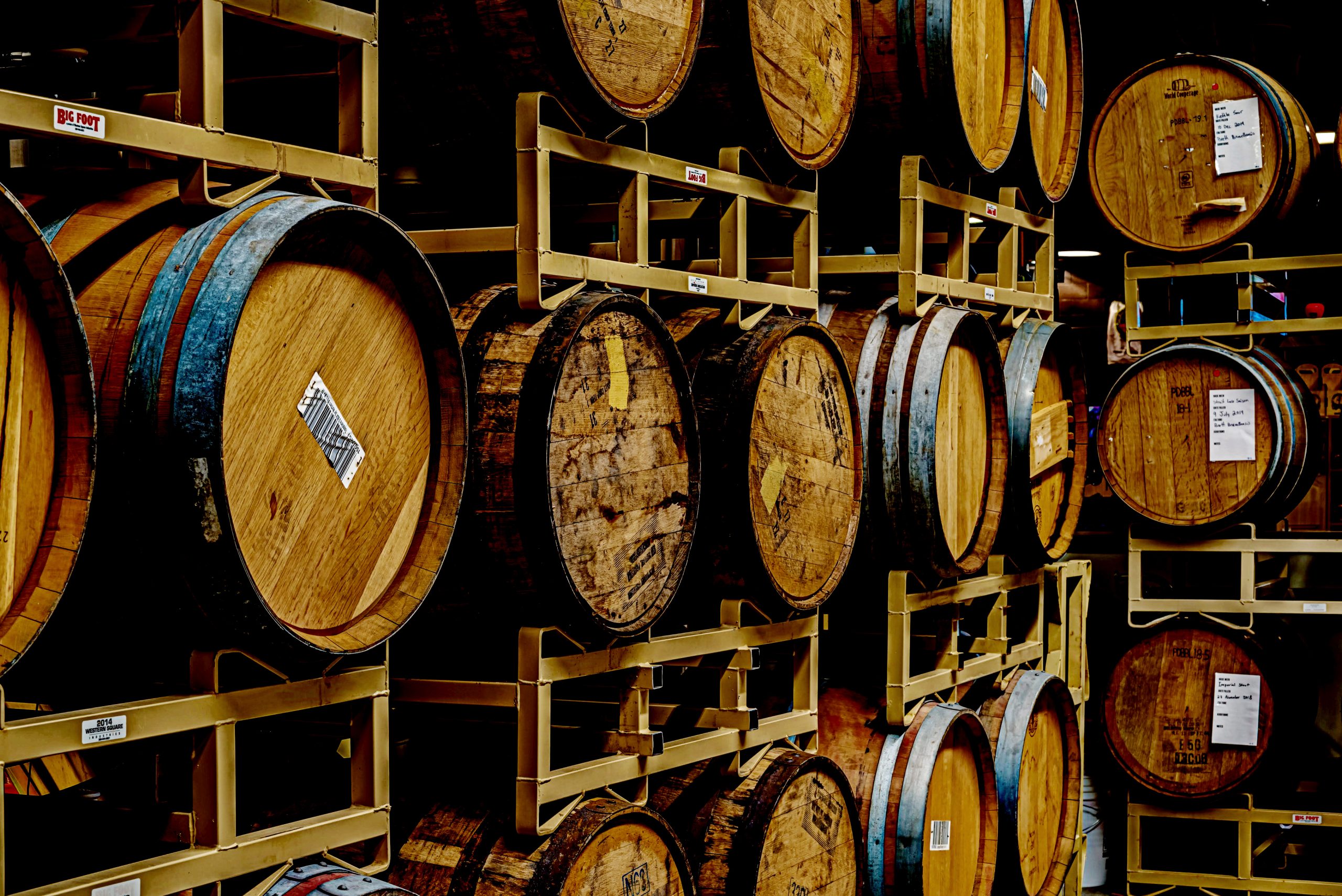 Why is Midnight Combine bottled like that?
We hand-bottle, hand-label and number each of our bottles of Midnight Combine in thick walled champagne-style bottles ranging from 500mL to 750mL, depending on the vintage year. We seal them with mushroom corks and secure them with metal cages. This ensures minimal oxygen exposure, safely contains higher carbonation pressures, and gives each bottle a unique visual appeal. Body and neck labels give specific information about the vintage year, recommended serving temperature and glassware, and individual bottle information such as bottle number and batch. Every vintage of Midnight Combine is designed from the ground up to be enjoyed fresh or to be aged further in the bottle for 3 or more years.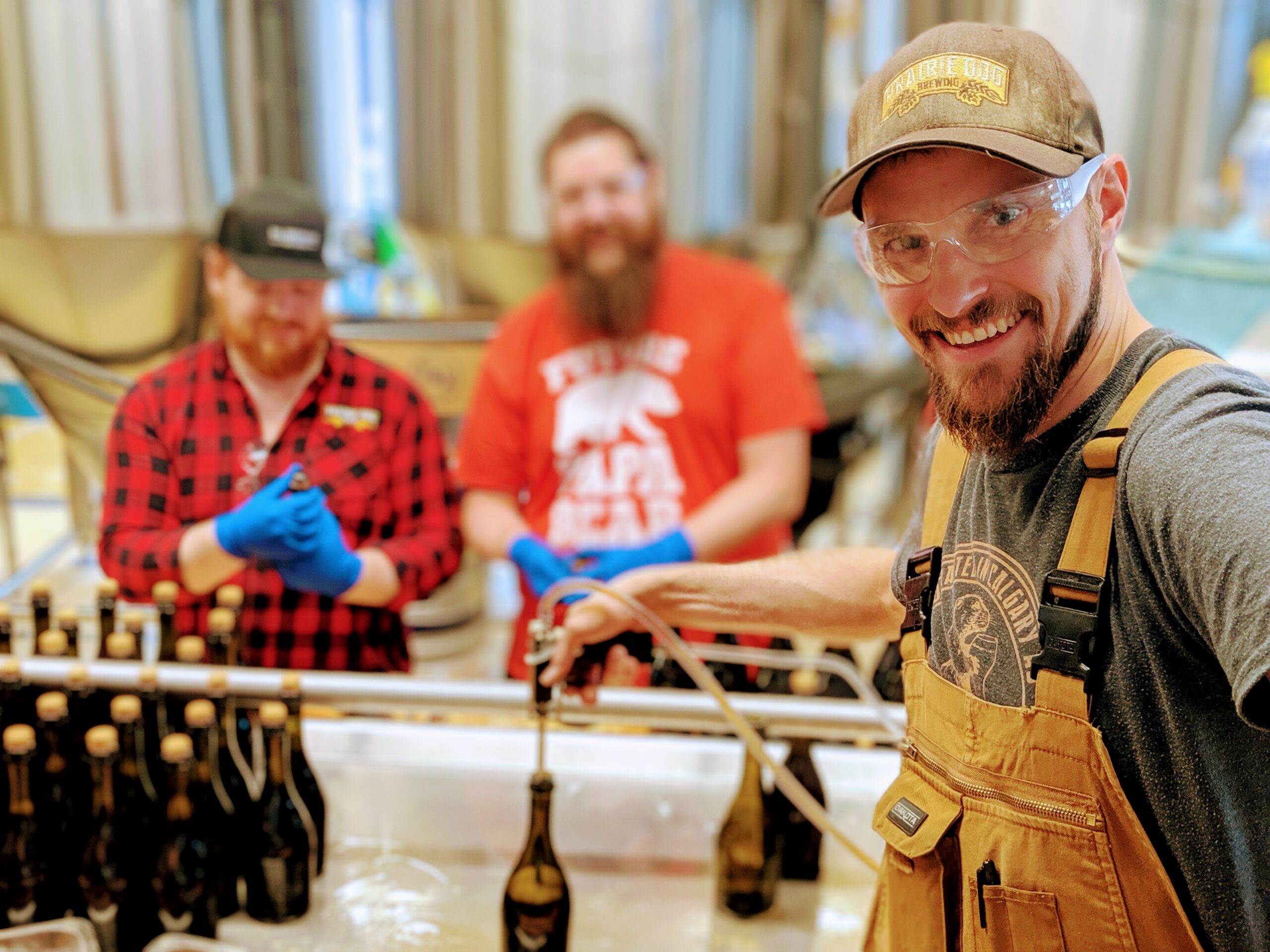 How should Midnight Combine be served?
All vintages of Midnight Combine should be served at a temperature of 8°c – 12°c. If the bottle has been refrigerated, a good rule of thumb is to let the bottle rest at room temperature for 30-60 minutes before opening. Once open, it can be served in a footed tulip, snifter, or chalice beer glass, or any other glass with a moderate taper such as a red wine glass.
Exercise caution when opening the bottle, as the mushroom cork may have excess pressure behind it and cause it to slip (just like Champagne). Do not point the cork towards anyone when opening. Do not shake the bottle at any point. Take care to pour the bottle gently to avoid swirling up the yeast sediment in the bottom — this sediment is perfectly normal in bottle-conditioned beers, and drinking it has no negative effects other than a slightly earthy taste. If the beer appears quite hazy or you see "chunks" floating in the liquid, don't worry — that is the result of the sediment being loosened during travel or while pouring. Allow the beer a few minutes to settle in glass and all will be fine.
What Midnight Combine vintages are available for sale?
Currently we have limited stock of all four vintages of Midnight Combine, from 2019-2022. Please consult the following table:
1500 bottles ever produced
600 bottles ever produced
600 bottles ever produced
500 bottles ever produced
Enjoy this article? Sign up for our newsletter to get the latest news and information about Prairie Dog Brewing and our famous beer and BBQ offerings!