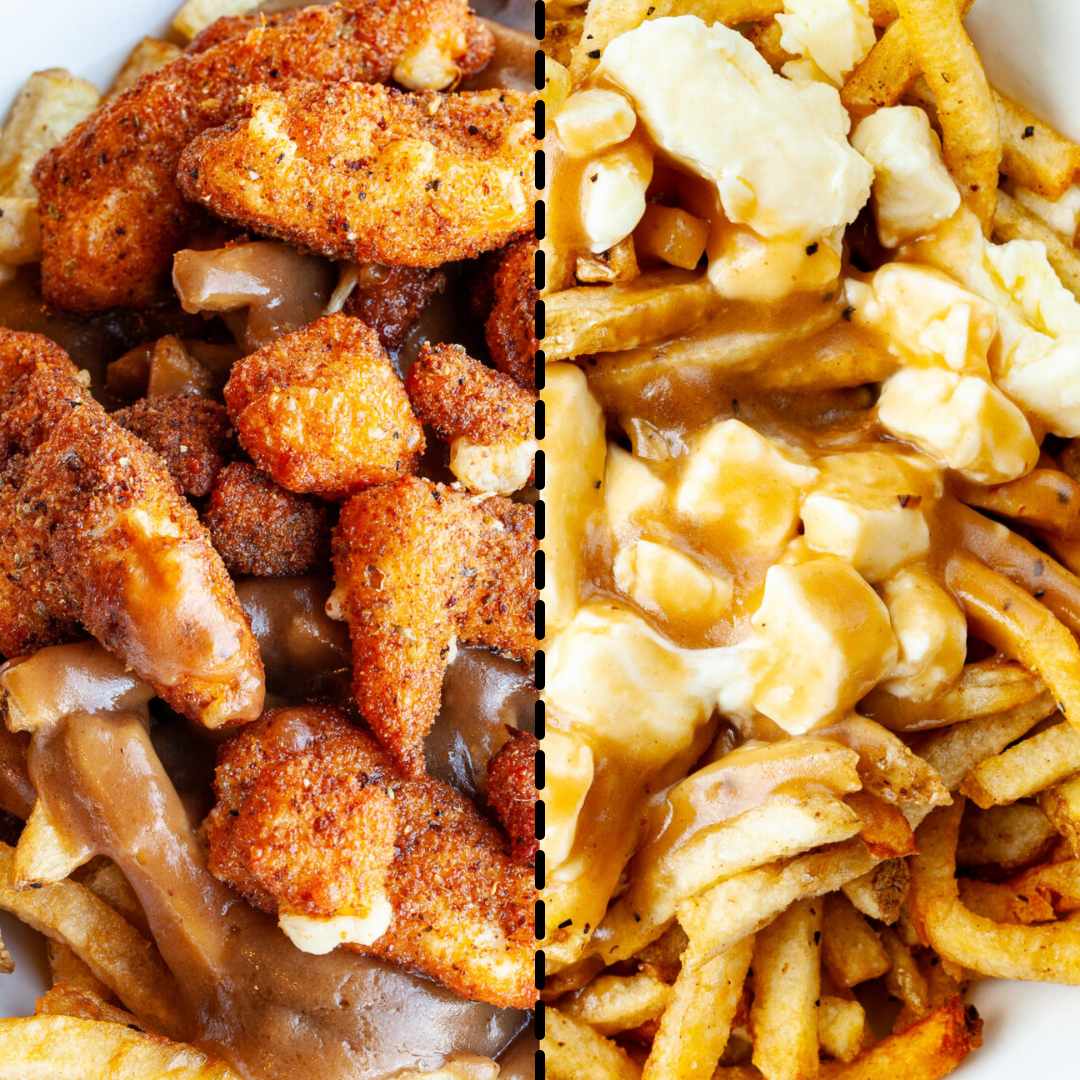 The Secret To Our Prized Poutine?

Spoiler Alert: It's Alberta's Crystal Springs Cheese!
Poutines are a staple at Prairie Dog Brewing, and we've been satisfying our guests' guilty pleasures with our simple and delicious house-made poutines since we opened our doors in 2018. Always a top seller, this simple 3-ingredient dish can win the heart of almost anyone. Read on to learn our essential secrets to this great dish!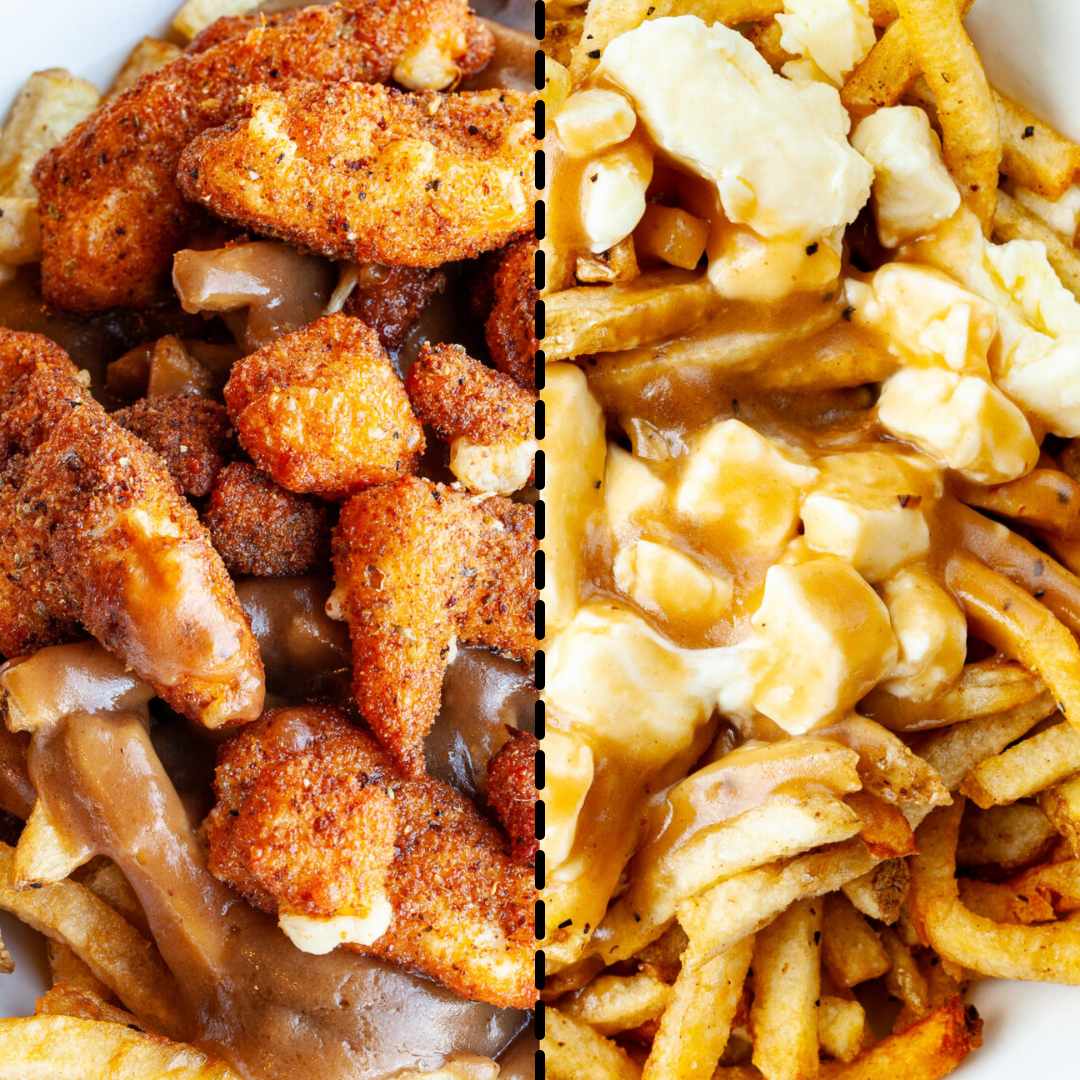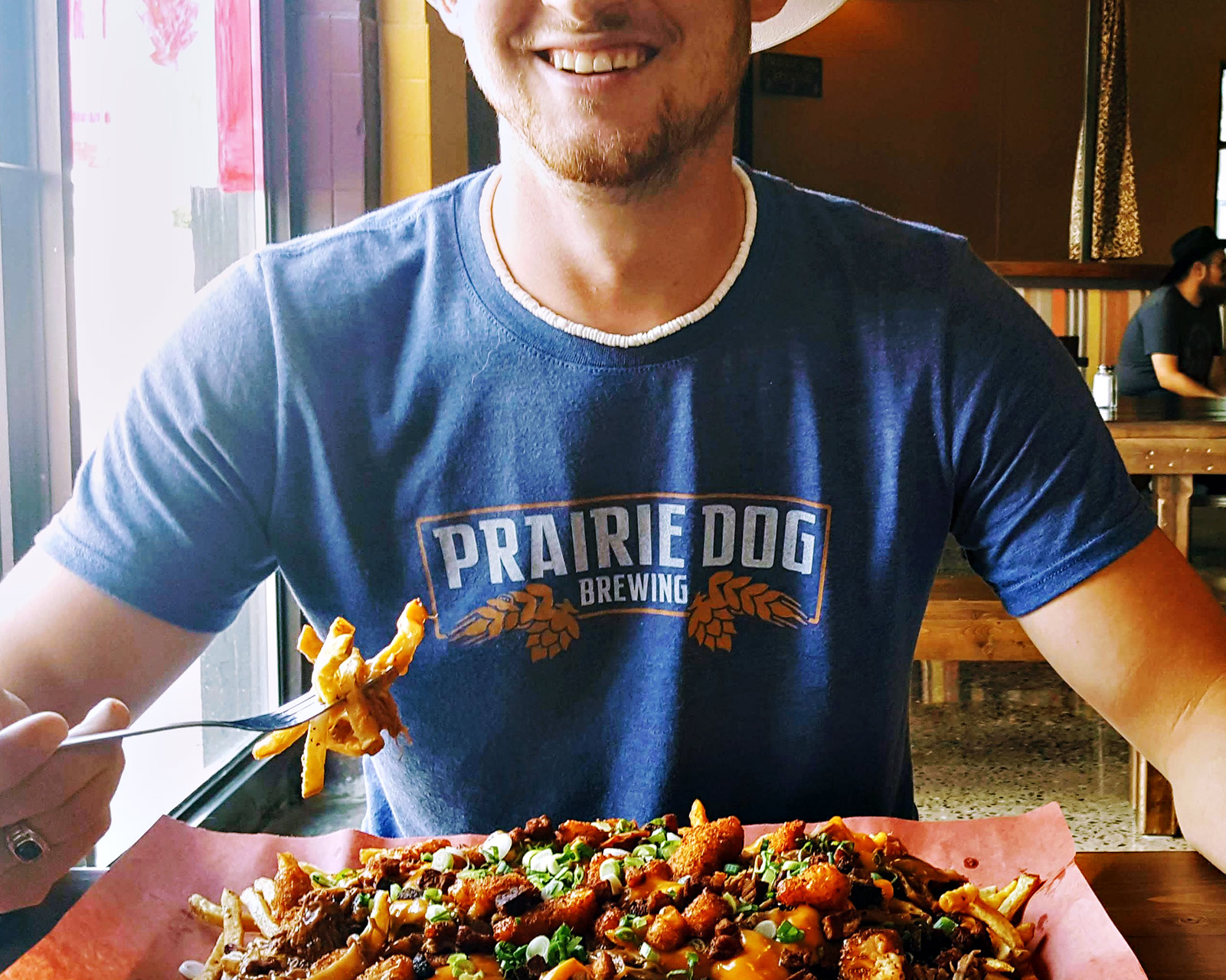 Before we divulge our deepest poutine secrets, what are the 3 major ingredients in every Prairie Dog Brewing poutine?
Our house-cut fried potatoes
Cheese curds – the largest we can find, which we prefer to bread, season and fry, but offer un-fried on request
A high quality beef gravy
We delve deeper into our secrets for each of these key ingredients in the following sections.
The Potato Diaries
Using high-quality frying potatoes, like our BC-grown Kennebecs, is crucial to making delicious crispy fries and poutine. Leaving the skin on the potato (the tastiest part), we cut our fries daily to a narrow width (not quite shoestring), and partially fry them (called blanching). Blanching drives out some of the moisture and makes the fries cook faster and more evenly on a second pass through the fryer (the moisture from the middle of the fry is driven outwards as it fries, so starting with a dryer outside before the second frying session leaves them more evenly cooked and slightly crispy on the outside).
When our guests order a poutine or fries, we fry the potatoes to order, which is a fancy way of saying that we don't fry in large batches in advance, where we'd have to leave our fries sitting under a heat lamp to dry out or get soggy (they rapidly draw in humidity from the air). Our hot, fresh made-to-order fries also help melt refrigerated cheese curds in cases where they aren't fried. The final important step to making our fries is to toss them with a pinch of salt and cracked black pepper.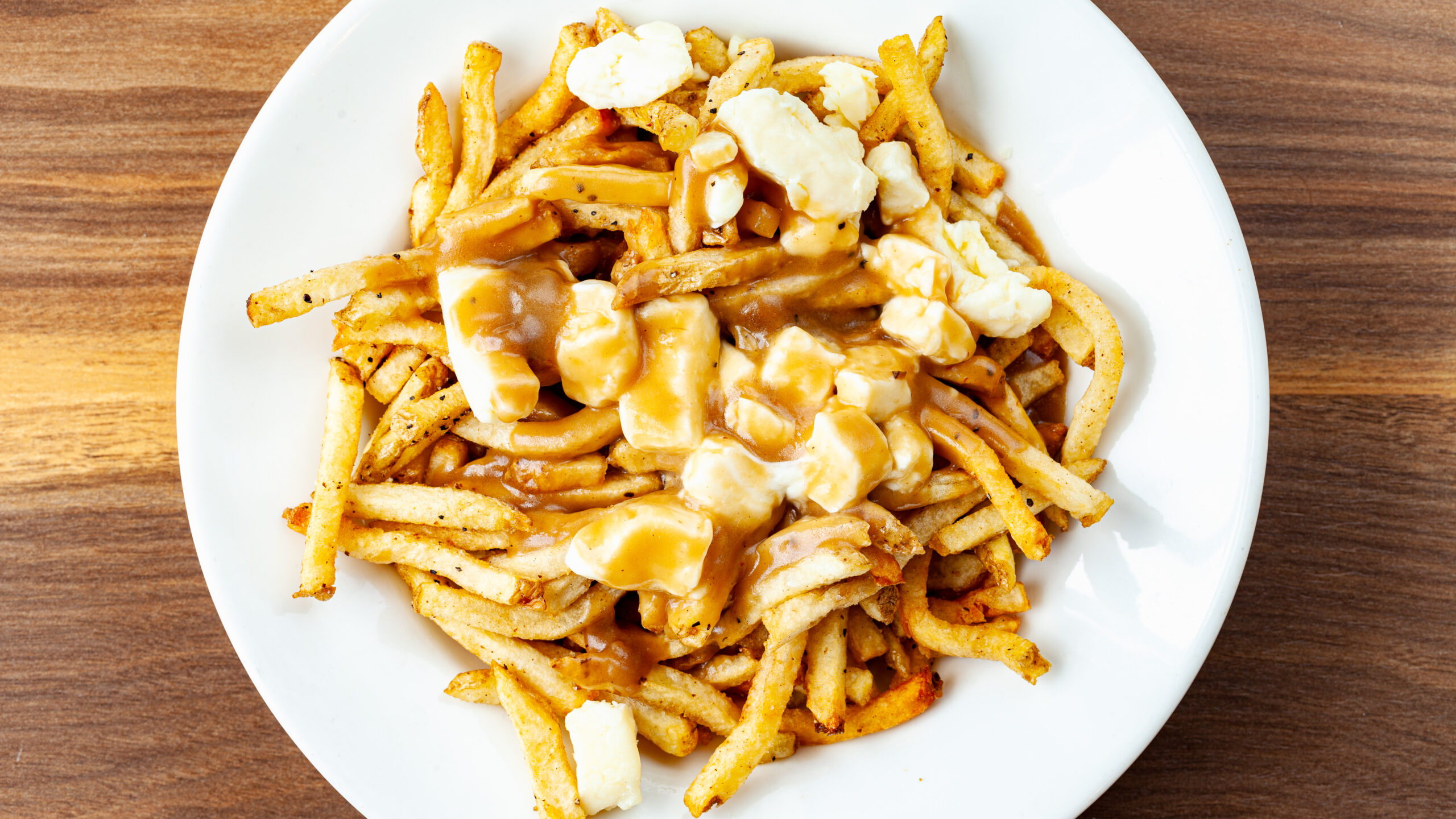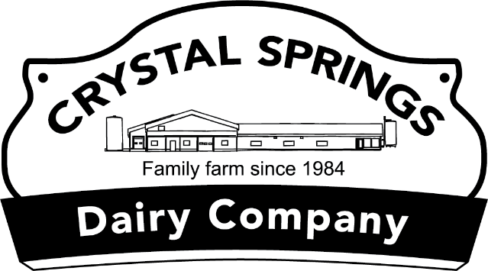 THE BEST CHEESE CURDS IN CANADA!
While our house-cut Kennebec potato fries are a huge part of what makes our poutines so great, a poutine is only worth eating if it's also made with high quality, authentic Canadian cheese curds.
Our Chef, Jay Potter, had a vision to create a unique poutine that featured unusually large curds, so large that we could bread and fry them like mozzarella fingers, but still include them among the fries and gravy of a poutine. Finding curds this large was harder than it sounded, and we originally had to special order jumbo curds from a Quebec-based supplier, which we used for our first 3 years of business, although we had a great deal of problems with the consistency of the product sizing.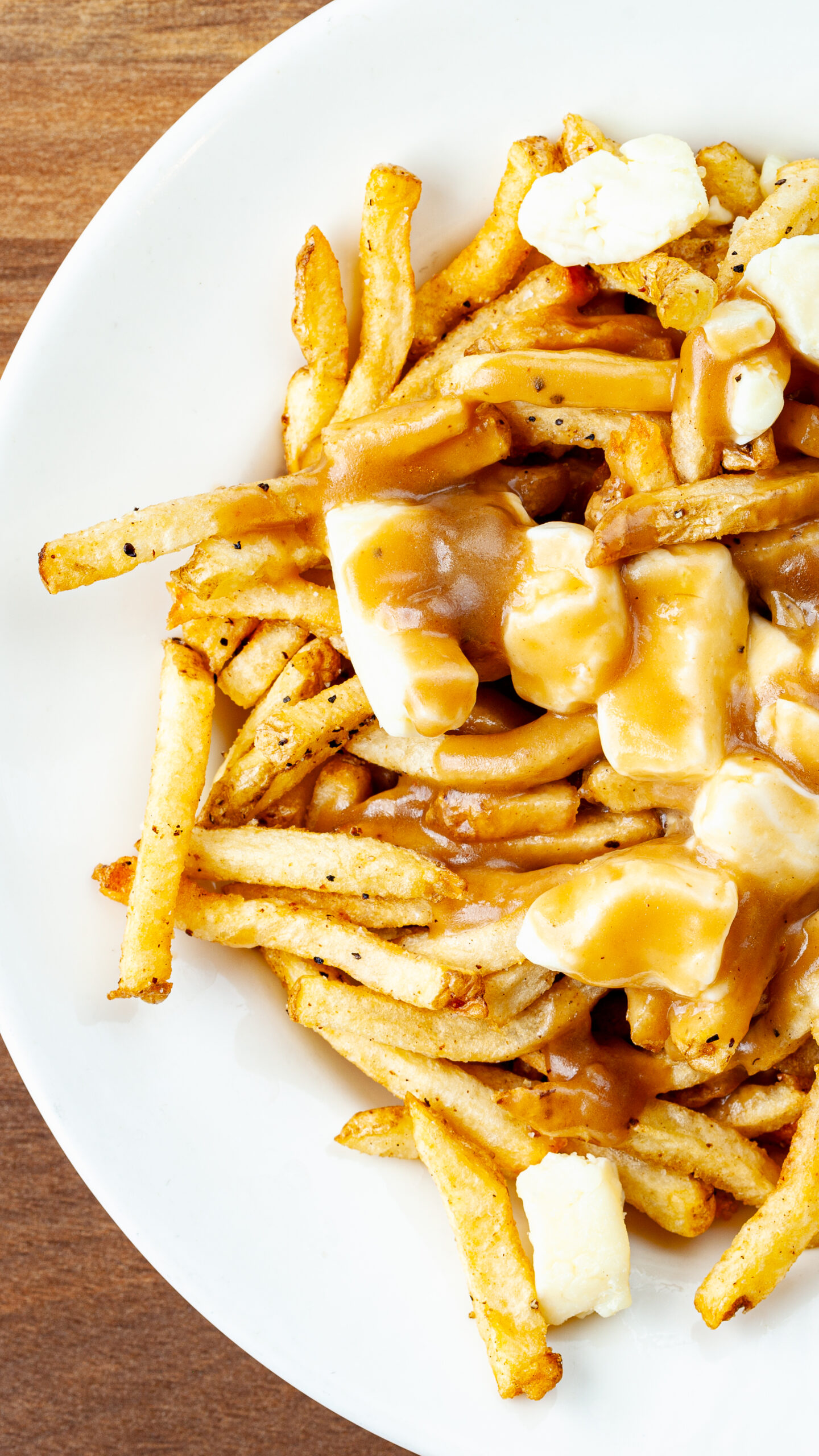 A big part of our success with poutines has been our savoury homemade breading mix, which we toss the curds in prior to frying. Did you know you can click on any menu item name on our dine in food menu to see our full list of ingredients?
When the pandemic came along, we had to shut down our dine-in services, and our business shifted online. We participated in La Poutine Week and Poutine With Purpose for pickup and delivery. It was after one of those poutine-themed occasions that the wonderful people at Crystal Springs Dairy Company reached out to us to let us know that they have exactly what we were looking for – gigantic, delicious cheese curds, made right here in Alberta at prices that were competitive to what we were already paying our other supplier – it was almost too good to be true! Crystal Springs is an Alberta family-owned and operated dairy farm just north of Lethbridge in Coalhurst, AB, and we go out of our way to support other Alberta businesses whenever we can.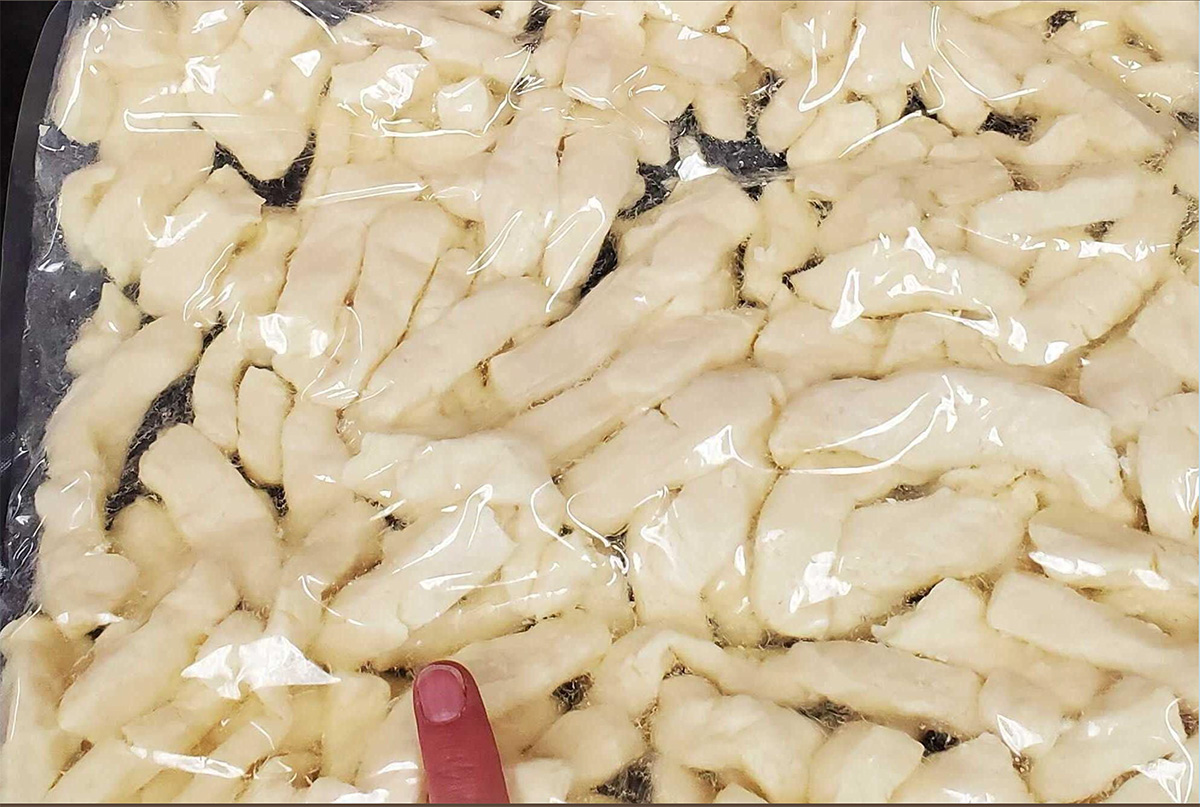 When we tasted the Crystal Springs cheese curds, the decision was easy – the curds were fresher and superior in flavour, with just the right saltiness and a thrilling "squeaky" texture. Just as great, the people at Crystal Springs were able to supply us with exactly what we needed as far as curd sizes, both the jumbo curds for our fried curd appetizer, and a slightly less-huge curd for our poutines, and what they shipped to us was exactly what we expected to receive as far as quality and the consistency of curd sizes. So in March of 2021, we gladly made the switch to what we think might very well be Canada's best cheese curds from Crystal Springs Dairy Company, finally taking our poutine to the next level!
If you love the cheese curds in our poutine and want to try to make your own mouth watering poutines or fried curds, you can support the Crystal Springs Dairy Company by asking your local cheese and deli market to stock their products, which also include cheddar, gouda, feta and more. Or, if you have the time and transportation, we recommend the road trip to visit their store and newly licensed cafe in the Coalhurst area! Follow Crystal Springs Cheese on Facebook and/or Instagram to learn more about their products and availability!
You can look forward to seeing more Crystal Springs Cheese on our menu in the future.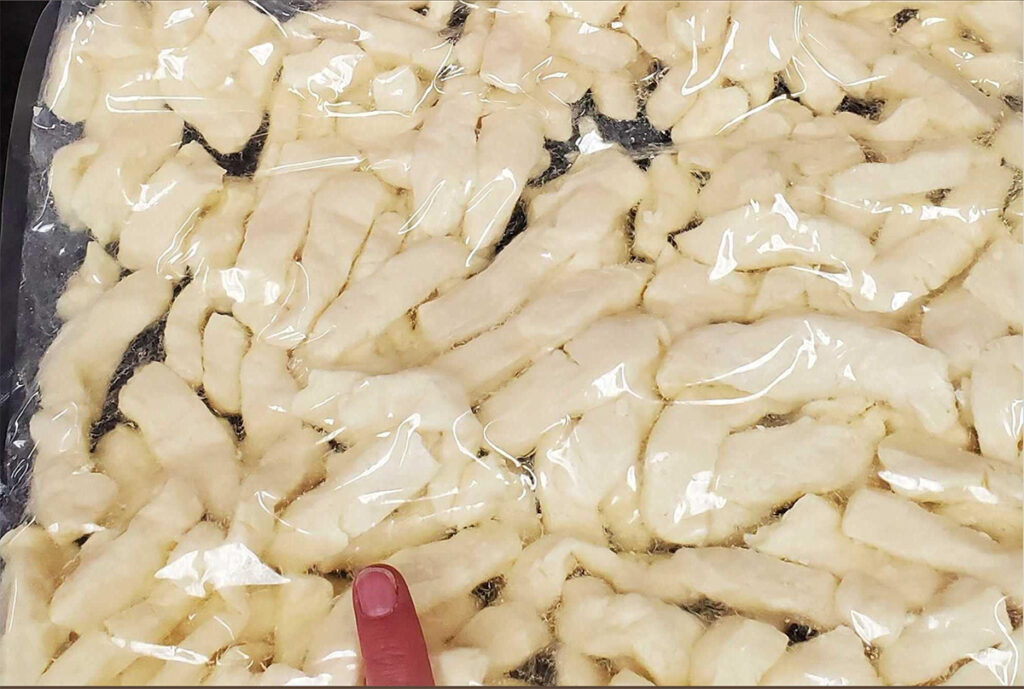 Makin' Gravy
Gravy is the final crucial ingredient to our poutines. We start with a house-made beef broth, which we cook low and slow overnight with beef bones, vegetable off cuts from the day, and more. While the broth already gets us much of the way to a delicious gravy, we then blend it with a commercial gravy mix to get us the rest of the way there. For our first few years of business, we were using the commercial gravy mix without our house broth, and it was not even close to as good as what we make today, so we can confidently say that our house broth is the secret to our gravy!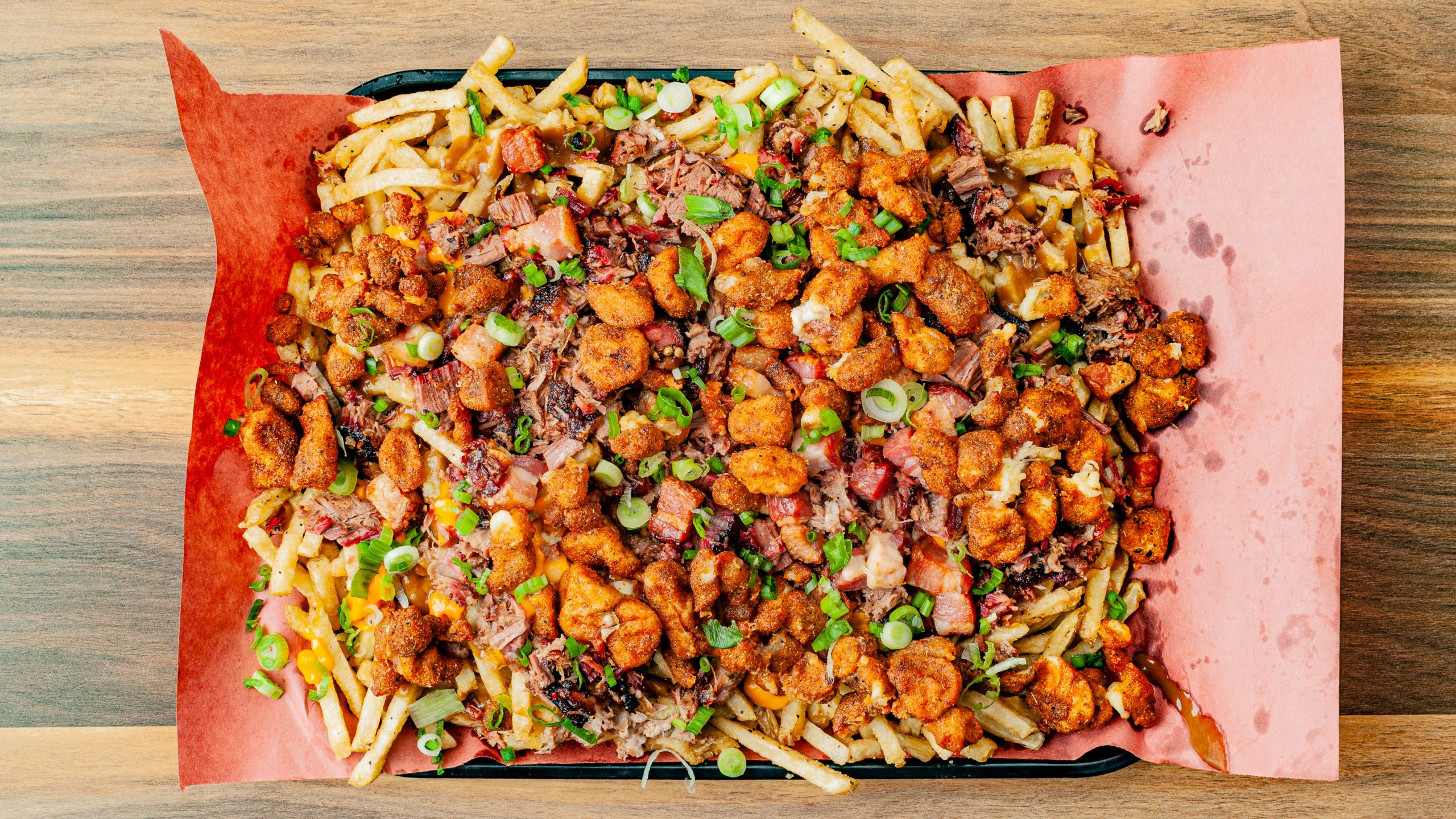 While there's nothing wrong with a simple, down-home 3-ingredient poutine, they can also be an excellent base for creative use of other ingredients. That's why we created our Extreme Poutine. We make this poutine on a huge platter with the same base ingredients, but also add nacho cheese sauce, smoked beef brisket, smoked pulled pork, chopped smoked bacon, and some green onions for colour and flavour, for a combination that is literally awesome.
So feel free to play around with your poutines and see what flavour combinations you enjoy. Got a suggestion? We'd love to hear from you on social media, follow, tweet, comment or direct message us @prairiedogbeer on Facebook, Instagram or Twitter!
Enjoy this article? Sign up for our newsletter to get the latest news and information about Prairie Dog Brewing and our famous beer and BBQ offerings!