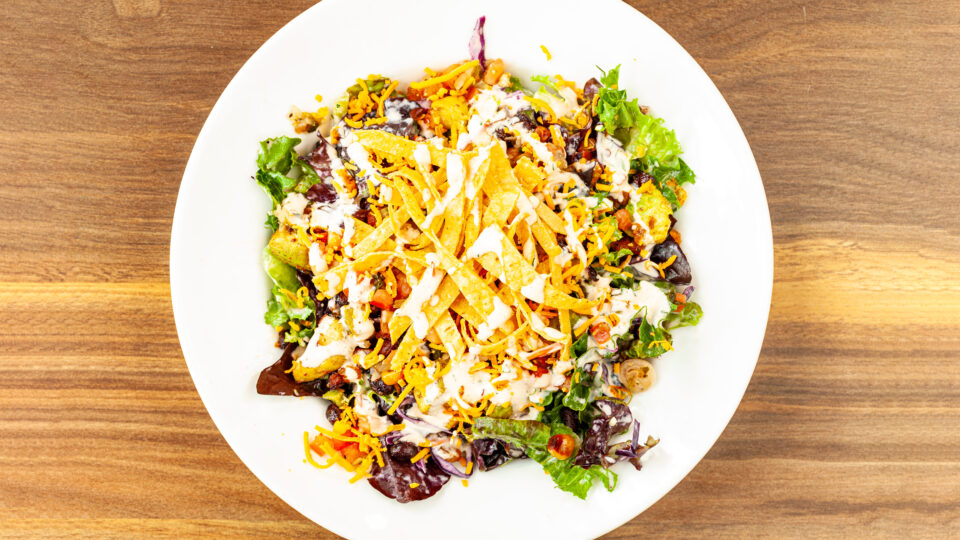 So-Cal Salad
Inspired by Baja California, this bright salad has crispy lettuce topped with deep-fried black beans and avocado, purple cabbage, pico de gallo and topped with our mildly-spicy Baja Sauce, fried corn tortillas and smoked cheddar cheese. Add Pulled Chicken or Pulled Pork - $7.50
Product Information
Long Description
Feel like you're on vacation at home with this bright and filling salad exploding with flavours inspired by Baja California. Crispy lettuce topped with deep-fried black beans and avocado, purple cabbage, pico de gallo and topped with our mildly-spicy Baja Sauce, fried corn tortillas and smoked cheddar cheese.
Ingredients
Artisan romaine lettuce, purple cabbage (sugar, kosher salt), black beans, avocado, smoked cheddar cheese. Pico de gallo: Roma tomatoes, red onion, jalapeno, green onion, cilantro, kosher salt, black pepper, apple cider vinegar, lime juice. Baja Sauce: mayonnaise, sour cream, chipotle peppers in adobo sauce, lime juice, fresh cilantro, garlic powder, granulated onion powder, coarse black pepper. Fried corn tortilla: water, ground yellow corn, ground white corn.
Allergens
Dairy, Hot Peppers, Soy, Eggs, Mustard
Trace Allergens
Wheat, Dairy, Soy, Eggs
Dietary Preferences
Vegetarian, Gluten Free
Allergen Information
Trace wheat allergen due to deep frying. To remove trace wheat, remove fried corn tortillas and fried avocado / black beans. To remove dairy allergen, substitute for our non-dairy vegan cheese as well as substitute for another salad dressing of your choice. All other allergens are present in the Baja sauce. To remove these allergens please substitute for another salad dressing of your choice.