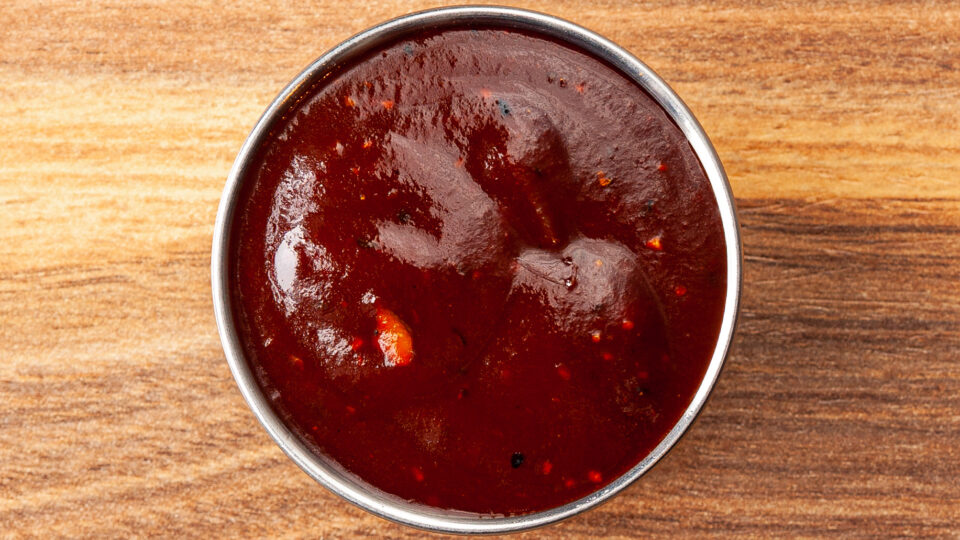 Dr. Pepper BBQ Sauce
Dark BBQ sauce that is inspired by the ever popular Dr. Pepper soda. This soda inspired bbq sauce pairs well primarily with ribs and pulled pork. 2-oz serving.
Product Information
Long Description
Dark, sweet BBQ sauce reminiscent of a multi-flavoured soda. 2-oz serving.
Ingredients
Dr. Pepper syrup (High Fructose Corn Syrup, Water, Caramel Color, Phosphoric Acid, Caffeine, Sodium Benzoate (Preservative), Natural and Artificial Flavors, Dimethylpolysiloxane. Ketchup, white vinegar, black molasses, garlic, shallots, mustard powder, ground cinnamon, cayenne pepper, kosher salt, black pepper
Allergens
Hot Peppers, Mustard
Dietary Preferences
Vegan, Gluten Free, Dairy Free, Soy Free, Egg Free
Allergen Information
Allergens cannot be substituted out of this menu item.. For all other potential allergens, please ask your server to see allergy codex binder for all menu item ingredients.