We Need Beer Label Artwork (Call currently CLOSED)
Prairie Dog Brewing invited applications from artists, photographers, and illustrators, with priority given to those residing in Calgary or Alberta, for artwork to include in beer labels for our regular branded beers which will be going into 473-mL cans. This opportunity was to showcase how visual artwork can masterfully pair with the artistry of brewing craft beer, while providing a paid opportunity to the creatives out there. We appreciate the interest we had in this program and received some great submissions, but with 2020 being what it was, we were not in a position to follow through with the program and we closed this program. We will re-evaluate in the future if/when we choose to launch with labeled cans.
About the Labels
The art can be inspired by or related to the beer in the can, or the name of the beer, but it doesn't need to be. Ideally the artwork would be created at the actual size of the label, but if not it needs to be submitted in a scalable file (more info on that later).
Successful applicants will have their artwork featured on Prairie Dog Brewing's website and social media channels. Their name (or studio name) will be printed on each beer label featuring their artwork. A copy of each final artwork design will be saved for possible display in the taproom alongside a collection of previous and future label designs. 
About Prairie Dog Brewing
We are a group of friends and family who came together through mutual passions for the outdoors, do-it-yourself sustainable projects, and—of course—craft beer. We put everything we are into building a family-owned craft microbrewery and 200-seat, family-friendly barbecue restaurant (brewpub) based solely in Calgary, Alberta, Canada. Ever since our founding in early 2016, we aimed to become a renowned destination that would be known as an integral part of our community, and which people would aspire to be a part of, whether as patrons, staff, entertainers, artists, partners, suppliers, or service providers. We opened our doors to the public in June of 2018, and have experienced tremendous success and support from Calgarians, as well as the Alberta community as a whole.
Our tagline is "Beer, Barbecue, Friends", because we want to bring people together in our conversation-friendly, family-friendly, easy-going setting to connect over beer and barbecue.
Why Prairie Dog?
We chose Prairie Dog as our name because these critters are a ubiquitous part of the prairies (although they are currently almost extinct in Canada). Prairie dogs, although small, are humble little creatures; they survive and thrive as a community, which is how we view the craft beer industry. They are providers for many other animals and we view our industry in a similar light—craft beer supports local farmers, producers, small business, and more!
They are also just friggin cute! Meet "Alby" the prairie dog. Pronounced Al-bee, "Alby" (short for Alberta) is our mascot.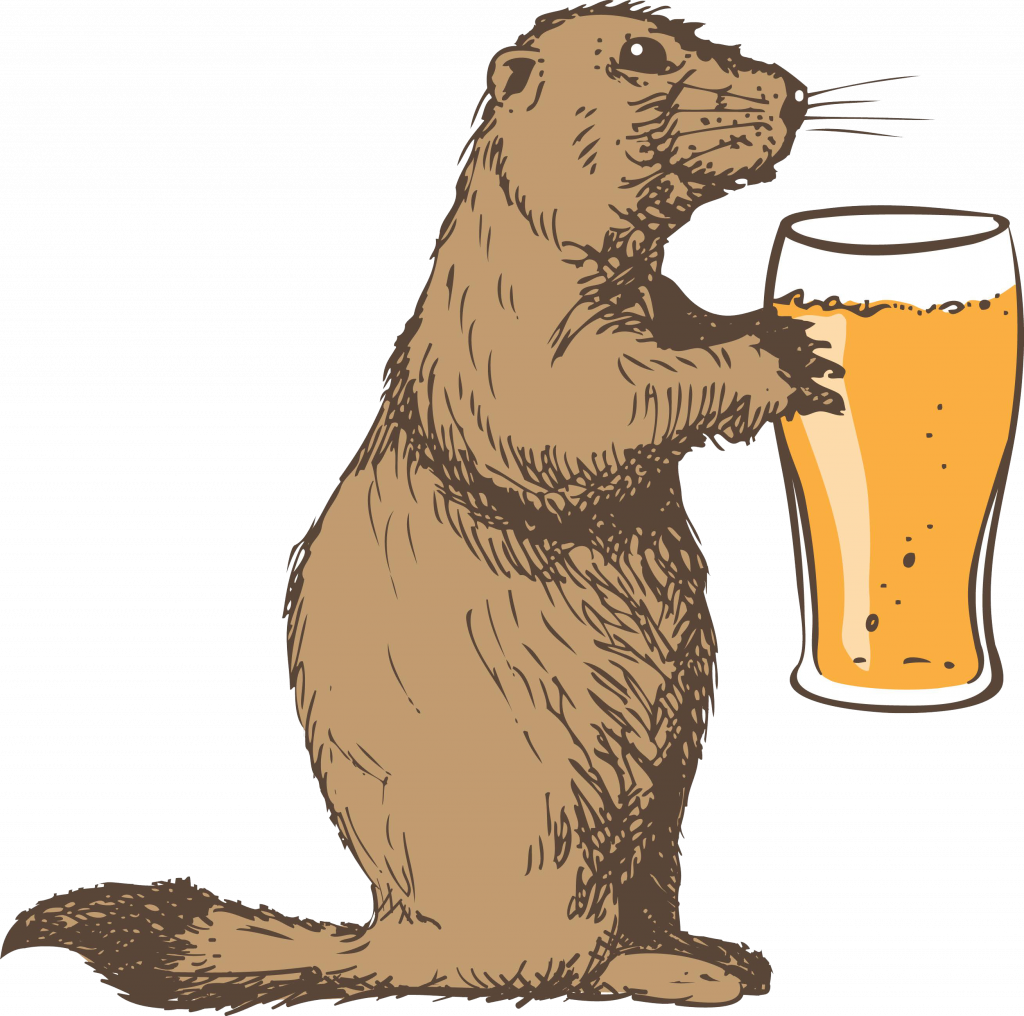 About The Beers
For more information about all of our beer check out our beer page at:
https://www.prairiedogbrewing.ca/product-category/prairie-dog-beer/
Tail Twitcher IPA
One of our very first beers and one that has become a favourite among our staff and guests alike. At 6.6% ABV, this beer is sure to get your tail twitching. This modern example of an American-style IPA is clear, amber-coloured, and dry, and is bursting with tangerine, lemon, and a resinous grapefruit character overlaid upon a tasty base of Alberta malts.
Super-B Hazy Wheat
Named after Super B trailers that are common sights across the prairies, our Super B Hazy Wheat was the very first beer we brewed on our commercial system and was the first beer ever poured out of our taps. This American-style wheat beer pours golden and hazy with a white, foamy head, and features prominent citrus, stone fruit, and bread aroma. The beer has a light, refreshing body with moderate carbonation and a dry but soft bread-flavoured finish and mild grainy aftertaste.
Little Bear Kölsch
Our Little Bear Kölsch-style ale is a flavourful but easy-drinking beer. Bright, clean, and crisp with a slightly sweet grainy flavour and a dry finish makes this beer the perfect pairing for warm summer days or coming in off the farmyard. Based on the pilsner style, but fermented with ale yeast and lagered for several weeks, this beer has a pleasant, soft and surprisingly refreshing flavour profile that makes it stand tall beside its lager brethren.
Gunnison's Red
Our red ale is named after the boisterous Gunnison's Prairie Dog of the Four Corners region of the US. It takes cues from the classic Irish Red style, employing a hint of roasted barley for colour and taste atop a base of sweeter caramel malts with a deliberate underlying bitterness that keeps the beer palatable and adds a pleasant aftertaste, but includes a late dose of Chinook hops for a spicier, American-style finish.
Uncle Eddie's Stubborn Stout
Prairie Dog Brewing has family in its core and with this beer we give a nod to the Potter boys' late, great uncle Eddie. Uncle Eddie may have seemed stubborn on the outside, but he wanted only the best for you—and he knew what that was whether you agreed or not. He was lovingly referred to as "a man for all seasons", because while appearing to be stubborn and opinionated, he used a wink and a smile in place of tact and diplomacy. Our oatmeal stout is a rich, dark stout with a thick, creamy head and full mouthfeel, containing notes of coffee, caramel, and dark chocolate with background smoke character from our in-house-smoked flaked oats. We made only one pilot batch of this beer early on in our garage brewing days because it was perfect from the start. And like Uncle Eddie, why mess with a good thing?!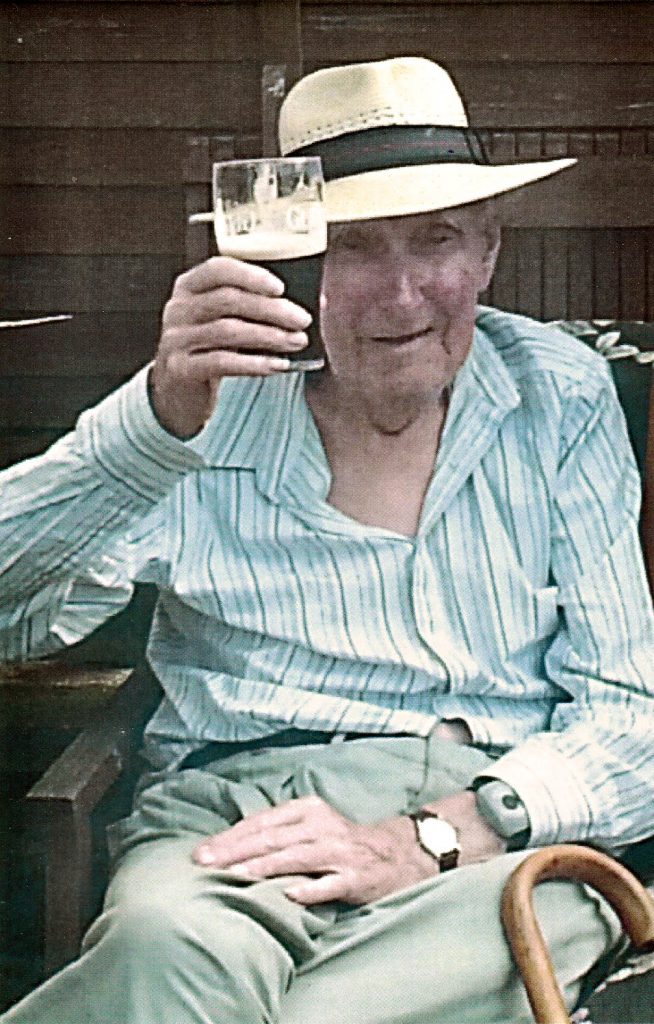 Jitter Bear Coffee Kölsch
This beer gives our Little Bear Kölsch the jitters with an infusion of premium Columbian dark-roast coffee from Rebel Bean Roasters (Okotoks, AB). Little Bear's sweetness and honey notes balanced with the milk chocolate, toffee, and caramel from the coffee creates flavour perceptions of a Coffee Crisp bar in a glass.
Coconut Brown
Gold-medal winner at the 2019 Canadian International Beer Awards for Rookie of the Year! This signature brown ale was meant to be a seasonal but the people have spoken and this beer is now on our regulars list. It features a load of Alberta barley malt overlaid with a huge dose of shredded coconut toasted in house prior to being infused into the beer. This beer is well balanced; with the base beer being nutty with a chocolate finish, the coconut brings a nice sweetness to balance out the slight bitterness from the hops used.
Prairie Lands Lager
This rich and malty lager highlights some of the fantastic malt grown and produced on our very own prairie lands. With the large majority of the malt used consisting of Vienna malt from Maker's Malt (Rosthern, SK) and Dark Munich Malt from Origin Malting (Strathmore, AB), expect a strong malty flavour with notes of caramel, cracker and biscuit.
Alby the Elder DIPA
A west-coast style, double dry hopped imperial IPA crafted as an ode to the Godfather of the style, Vinnie Cilurzo of Russian River Brewing. Flavours of pine, hop resin, come after a citrus burst in the aroma, but don't let the aggressive hopping of this beer scare you, the hops are balanced on a hefty malty backbone. This beer is so good and comes from such an inspiration we had to include Alby in the name!
How to Apply (Applications Currently Closed)
Application Criteria
The individual artist or, if a collective, all members of the group, must be of legal age in the province/state or place of residence at the time of application. Successful applicants must also be willing to:
Work collaboratively with Prairie Dog Brewing on the final artwork design, if needed;
Sign a written contract, which details the rights and responsibilities of each party;
Successfully meet the criteria of this artist call, beer label production schedule and expectations set out in the contract;
Be willing to participate in Prairie Dog Brewing projects, such as video interviews, for Prairie Dog Brewing's promotional purposes on social media, website and otherwise;
Tag Prairie Dog Brewing (@prairiedogbeer) on all social media posts related to the beer label design, following the public announcement by Prairie Dog Brewing, but not before (unless otherwise decided between the two parties);
Provide a short bio (max 50 words), an artist photograph suitable for print production, and a short description of the label's inspiration (max 150 words). This information will also be used for Prairie Dog Brewing's media opportunities and to promote the beer and artist on social media and the company website; and
Allow final artwork to be used on merchandising and other promotional material.
Selection Criteria
The call for artists to create beer labels for Prairie Dog is ongoing. Once submitted, applications are collected and saved (for a maximum of two years) and will be reviewed by Prairie Dog Brewing's selection team.
Successful applicants will be chosen based on their ability to collaborate with the Prairie Dog Brewing team and to meet the application criteria, and for submitting artwork that the team feels showcases the vibe of the beer and would look great on the label. 
All applicants will be notified once the team has made its selections. The successful candidates will be notified, but their name will not be announced publicly until the final artwork has been secured, contract signed, and the beer is ready for release. 
Requirements for Final Artwork
Final artwork may be original, created specifically for one beer, or may be artwork previously created by the artist. Label designs need not illustrate the beer or its ingredients, but it may. Final artwork must not have been used previously in any other beer label design.
Remuneration
The successful applicant will receive $250 (GST included) for each label design upon submission of an invoice for the final artwork received. And of course a flat of the beer showcasing the chosen artwork.