Barrelpalooza 2020
We love wood at Prairie Dog Brewing! Not only do we fire our barbecue pit with it, but we age small quantities of our beer in oak to create strikingly-unique and complex products that only faintly resemble the original beer. Every November, we host a small festival/tap takeover for one weekend to celebrate our annual release of our most premium, barrel-aged product, Midnight Combine, and to share our limited-release barrel-aged beer creations with friends. This year, Barrelpalooza will commence on Thursday, November 12th, and conclude on Sunday, November 15th, culminating in an exclusive brewmaster's dinner. 
It's all about the wood
Barrel-Aged Beer tap takeover and brewmaster's dinner
Barrel-Aged Beer Tap Takeover
What's A Tap Takeover?
Our normal draft beer setup allows for about 12-16 of our in-house craft beers, and most of that capacity has to be used for conventional, non-aged beer for practicality.
For one weekend each year, we ditch practicality and replace the majority of our conventional beers with limited, barrel-aged products, both ours and those from select guest breweries, giving customers a rare, fully-immersive glimpse at the wider spectrum of wood aged beer out there, including trying flights of these exclusive premium products, rather than having to commit to purchasing an expensive bottle up front.
Wood Maturation
During maturation, some oxygen exposure can occur in barrels, giving higher-alcohol beers more of a sherry-like character, and diminishing bitterness. This serves to smooth out and sweeten the flavour of whatever products are present. Whiskey barrels are often charred inside, and this charcoal naturally removes impurities and smooths flavours, as well.
Wood Flavours
Most often beer, whiskey and wine are aged in American, French or Hungarian oak, in part because oak contains a lot of vanillin, the compound that gives vanilla it's sweet, smooth flavour. Vanillin dissolves into alcohol quite easily, as well as some of the drying tannins present in the oak.
Barrel Sours
"Sours" are often not any more sour than a typical beer, the term is a bit of a misnomer that refers to beer fermented with unconventional or "wild" yeast and bacteria.
Barrels provide a convenient, low-risk vessel for sour/wild fermentations, especially because wild microorganisms survive well in wood pores (some wild yeasts actually eat wood when sugars are not available).
Wild microorganisms often transform beer in a dramatic way and are associated with complex flavours/phenols that aren't usually found in liquor products. In some cases, these organisms do actually sour the beer, as low as a puckering pH3.0 (regular beer is around pH4.2).
Tap Takeover Draft Lineup
Kettle Sour Gone Wild! | Prairie Dog Brewing | 3.3% ABV | Barrel-aged Berlinerweiss sour
Sunrise Series Episode 1 | Prairie Dog Brewing | 6.8% ABV | Clean, wine-yeast fermented saison (pinot-grigio-like)
Sunset Series Episode 1 | Prairie Dog Brewing | 5.2% ABV | Pink guava & passionfruit dark sour saison w/Brettanomyces
Solera: The Third | Grain Bin Brewing | 7.3% ABV | Wine-barrel-aged sour saison
Born of Fire #2 | New Level Brewing | 6.5% ABV | Barrel-aged saison aged with pineapple, mango, peach and Brettanomyces, part of the Saisons in the Abyss series
Robin des Bois (Robin Hood) | Prairie Dog Brewing | 6.5% ABV | Red ale fermented 100% with Brettanomyces in an oak barrel. Dry, fruity and slightly funky
Midnight Combine (2020) | Prairie Dog Brewing | 9.0% ABV | Belgian-style dark strong aged in wine barrels with secondary Brettanomyces fermentation
Bourbon-Barrel-Aged Nightingale Porter | Origin Malting & Brewing Co. | 7.3% ABV | Imperial porter aged in Jim Beam barrels for a great finisher
Imperial Old Man Winter Porter (2019) | Ribstone Creek Brewery | 10.0% ABV | Imperial porter cellared for months with oak chips. Smooth, complex and refined
Bourbon-Barrel-Aged Blue Monk Barleywine | Brewsters Brewing | 11.9% ABV | Sweet toffee and caramel character with Bourbon underpinnings 
What is it?
The Barrelpaloooza brewmaster's dinner is a limited-availability ticketed beer and food pairing event for groups of 2-6 people, and will be hosted on Sunday, November 15, 2020 at 6:00pm.
Ticket holders will be seated at their own table (with barriers and/or distancing from other seated guests), and will receive several food courses with guided beer pairings, each focusing on a different style of barrel-aged beer (see the menu below).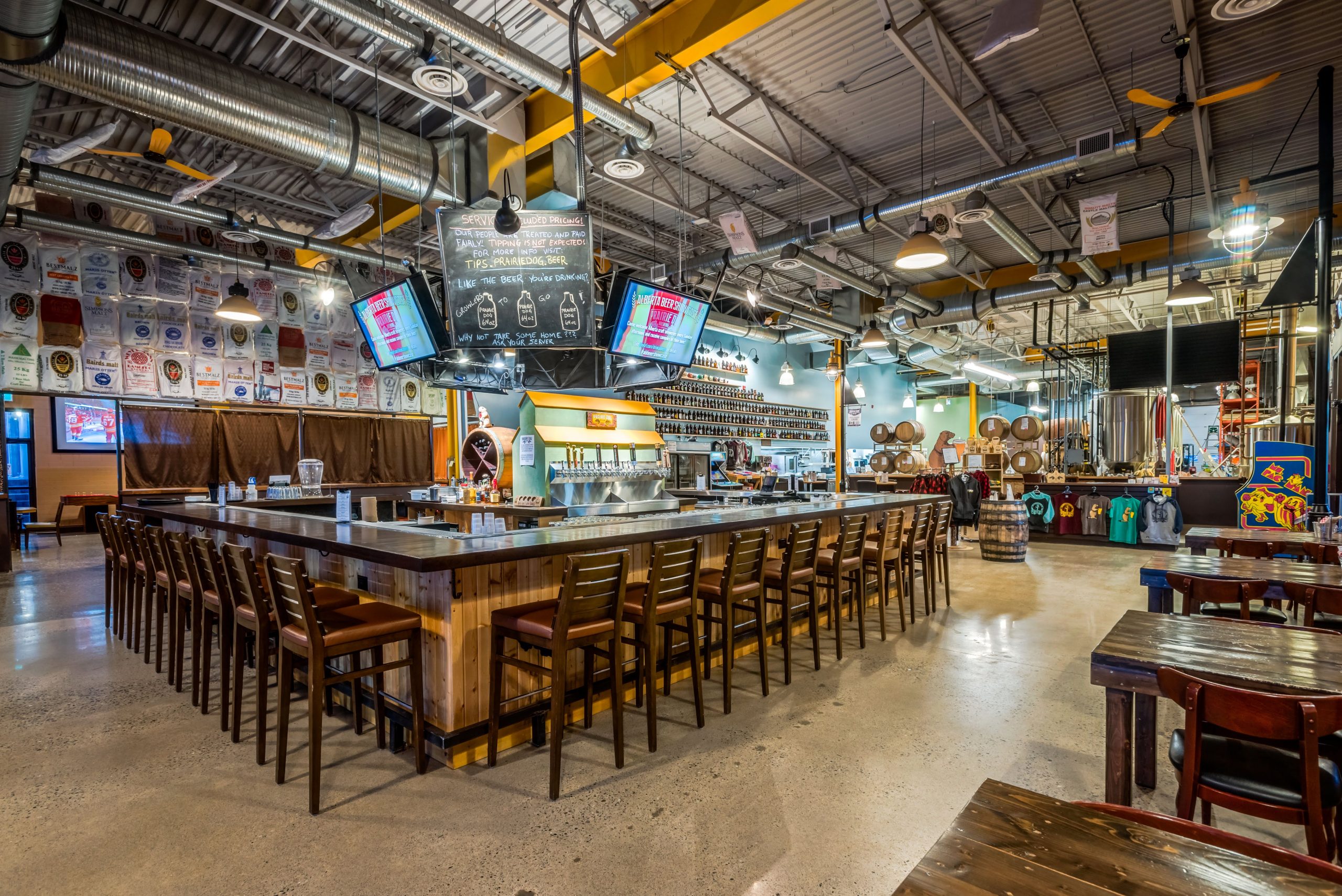 Complimentary midnight combine
Ticket holders will receive a complimentary bottle of our 2019 release of Midnight Combine, a Belgian-style dark strong ale made from a blend of five oak wine barrels and bottled in 2019, which has aged nicely. This is our most premium barrel-aged beer product.
We will also be launching our 2020 release of Midnight Combine as part of the Barrelpalooza festivities, so guests can purchase bottles or try the fresh 2020 release on draft at the pub while they attend the Brewmaster's Dinner.
buy tickets
Tickets are already available right here on our web store at $60 per seat, or on Eventbrite for $65 (taxes not included). Due to limited seating, we recommend you purchase early.
Dietary Restrictions
No problem! Please note any dietary/allergy restrictions you may have in the comments/order notes section when you purchase your ticket online. Due to the unique nature of the event, we can only accommodate dietary restrictions that are communicated to us in advance. Call us at 403-407-2448, or email us at events@prairiedog.beer if you forgot to include dietary restrictions at the time of ticket purchase.
COVID-19 Safety Measures
We work closely with Alberta Health Services (AHS) and have taken great efforts to modify our facility and procedures to provide the maximum safety possible in a restaurant setting, including requiring all staff and owners to wear masks, adding barriers between guest tables, and eliminating cross-contact between customers and staff with division of labour. Aside from our regular COVID-19 dining restrictions, we must make some additional restrictions to the event as follows:
Maximum table size/ticket order is six (6) to comply with current provincial health orders
Guests will only be seated with cohort members included on their ticket order, as per AHS guidelines, so please group-buy if you would like to sit with friends/family
Tickets will be refundable in the case that the restaurant is unable to host the event due to a public health order – otherwise tickets are non-refundable
Brewmaster's Dinner – Sunday, November 15, 2020
Dinner Menu Pairings
All ticket-holding guests will be provided with our Kettle Sour Gone Wild! as a welcome beverage, and a plate of local cheese and preserves
Course 1
Jerk Pork paired with a barrel-aged dark, sour saison co-fermented with passionfruit and guava in oak wine barrels
Course 2
Game bird paired with our Robin des Bois barrel-aged red ale, fermented 100% in oak with brettanomyces yeast
Course 3
Stone fruit crisp paired with our Desperate Measures Imperial Stout — a complex and dry blend featuring stout aged over a year in Bourbon whiskey barrels