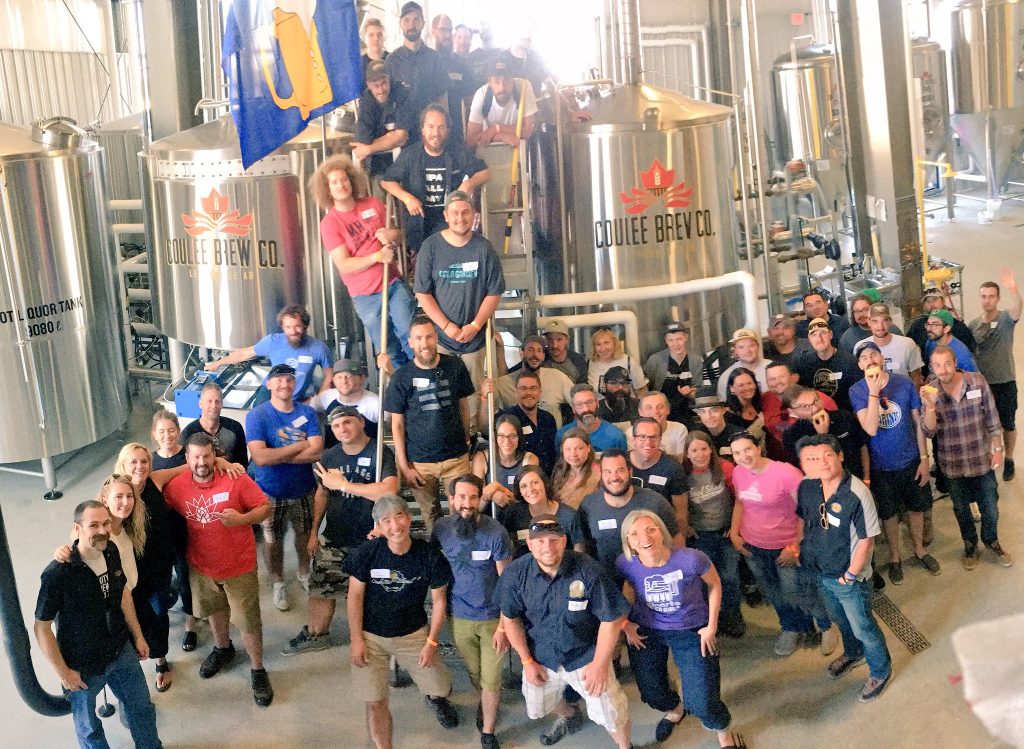 Although we make our own beer, we strongly believe in supporting the Alberta beer community and its growing number of breweries. One of the best ways for us to do that is to buy beer from other breweries and put it on a guest tap at our brewpub, but that's not enough — we've decided to promote the world-class products being made by our friends throughout the province, both on our social media channels and at the pub itself, hence the Alberta Beer Showcase. On top of promotion, we're going to let those brewers and their brand ambassadors loose at Prairie Dog to stalk the floor every Sunday and educate our customers and staff about their beer, while offering samples on our dime!
How it Works
We're offering month long AB Beer Showcases for every Alberta brewery (including contract brewers), which started in April 2019 and continues perpetually, with breweries allowed to participate once per calendar year. Breweries pick one or two beers they want to showcase; we encourage breweries to select beers that best represent their brand or differentiate them from their neighbours, rather than their best sellers or most "accessible" beers.
At the start of each showcase, we work collaboratively with the brewery on social media posts to let people know which brewery and beer are next. We'll also post some information about tastings on Sundays and any related activities such as cask nights. Along with online promotion, we will promote those breweries and their beer at the pub for the duration of the showcase. Our AB Beer Showcase calendar (right here) shows which breweries are coming up in the showcase, and we work to have calendars on the walls at the pub.
To participate, we ask breweries to complete our application questionnaire, attesting they are Alberta-owned and will be showcasing Alberta-made products made largely from Alberta ingredients (we won't stop breweries from showcasing a beer that uses non-AB ingredients, we'd just love to promote the use of Alberta agricultural products as much as possible).
Our culture is important to us, so breweries that use misogynistic, discriminatory or exclusionary marketing tactics will be excluded from participating in the showcase, as well as from being featured in the beer lineup at the pub at any time.
And finally, we believe that if all the province's brewers stand together, we can make a positive impact on not only Alberta's economy, but on the social fabric of our communities. A big way for us to demonstrate that unity is to become members of the Alberta Small Brewers Association (ASBA), so we will give preference to ASBA members whenever there is contention for showcase slots.
What Does it Cost to Participate?
Nothing but the time it takes a brewery to complete the application and coordinate with us for beer deliveries, and for a brewery representative to come on site at Prairie Dog for one or two Sunday afternoons during their showcase to talk about your beer and hand out samples! If you want, you can also supply us with promotional materials to put up at the pub for the duration of the showcase, including things like tap handles and coasters. This is absolutely not required and you will be offered your materials back at the end of the showcase.
Of course, Prairie Dog Brewing will be buying all of the beer used for the showcase, including paying for samples given out to customers out of our own pocket. We really hope that participating breweries come out ahead, financially. On top of that, breweries get the bonus of additional exposure, in person and through our social media feeds — we aim to increase participating breweries' sales and social media followings.